Selecting Clamps Using
Pipe,

Conduit,

or Tubing Trade Size
Multiline
Vibration-Damping

Loop Clamps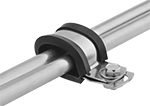 Organize multiple lines of pipe, tubing, and conduit with one clamp. Wider than standard loop clamps, multiline loop clamps surround two lines of material to create a secure grip while holding the lines close to the mounting surface. A cushion covering the clamp reduces vibration and wear from clamp edges.
Zinc-plated steel clamps have good corrosion resistance. 321 stainless steel clamps have excellent corrosion resistance.
EPDM cushions are for use in environments where clamps are exposed to water and steam. They withstand ozone and aging. Silicone cushions withstand ozone, sunlight, oxidation, and high temperatures.
For technical drawings and 3-D models, click on a part number.
Inch

Metric,


mm
For
Pipe
Size

Cushion
Color

Ctr.-to-Ctr.




Lg.

Lg.

Wd.

Ht.

Thick.

Fasteners
Included
Hole


Dia.

Temp.




Range,




°F

For
Use
Outdoors

Pkg.




Qty.

Pkg.

EPDM Rubber Cushion

1/4

"
6
__
Black

3/4

"
1

3/8

"

3/4

"

3/8

"

1/32

"
No

13/32

"
-40° to 210°
Yes
10
00000000
000000

3/8

"
10
__
Black

7/8

"
1

5/8

"

3/4

"

1/2

"

1/32

"
No

13/32

"
-40° to 210°
Yes
10
00000000
00000

1/2

"
13

1/8

Black
1"
1

7/8

"

3/4

"

5/8

"

1/32

"
No

13/32

"
-40° to 210°
Yes
10
00000000
00000

5/8

"
16

1/4

Black
1

1/8

"
2

1/8

"

3/4

"

3/4

"

1/32

"
No

13/32

"
-40° to 210°
Yes
10
00000000
00000

3/4

"
19

3/8

Black
1

1/4

"
2

3/8

"

3/4

"

7/8

"

1/32

"
No

13/32

"
-40° to 210°
Yes
10
00000000
00000

7/8

"
22

1/2

Black
1

3/8

"
2

5/8

"

3/4

"
1"

1/32

"
No

13/32

"
-40° to 210°
Yes
10
00000000
00000
1"
25
__
Black
1

1/2

"
2

7/8

"

3/4

"
1

1/8

"

1/32

"
No

13/32

"
-40° to 210°
Yes
10
00000000
00000
1

1/8

"
29

3/4

Black
1

11/16

"
3

1/8

"

3/4

"
1

1/4

"

3/64

"
No

13/32

"
-40° to 210°
Yes
5
00000000
0000
1

1/4

"
32
__
Black
1

13/16

"
3

3/8

"

3/4

"
1

3/8

"

3/64

"
No

13/32

"
-40° to 210°
Yes
5
00000000
0000

Silicone Rubber Cushion

1/2

"
13

1/8

Red
1"
1

7/8

"

3/4

"

5/8

"

1/32

"
No

13/32

"
-60° to 400°
Yes
5
00000000
0000

5/8

"
16

1/4

Red
1

1/8

"
2

1/8

"

3/4

"

3/4

"

1/32

"
No

13/32

"
-60° to 400°
Yes
5
00000000
0000

3/4

"
19

3/8

Red
1

1/4

"
2

3/8

"

3/4

"

7/8

"

1/32

"
No

13/32

"
-60° to 400°
Yes
5
00000000
0000

7/8

"
22

1/2

Red
1

3/8

"
2

5/8

"

3/4

"
1"

1/32

"
No

13/32

"
-60° to 400°
Yes
5
00000000
0000
1"
25
__
Red
1

1/2

"
2

7/8

"

3/4

"
1

1/8

"

1/32

"
No

13/32

"
-60° to 400°
Yes
5
00000000
0000
1

1/8

"
29

3/4

Red
1

11/16

"
3

1/8

"

3/4

"
1

1/4

"

3/64

"
No

13/32

"
-60° to 400°
Yes
5
00000000
0000
1

1/4

"
32
__
Red
1

13/16

"
3

3/8

"

3/4

"
1

3/8

"

3/64

"
No

13/32

"
-60° to 400°
Yes
5
00000000
0000

321 Stainless Steel

EPDM Rubber Cushion

1/4

"
6
__
Black

3/4

"
1

3/8

"

3/4

"

3/8

"

1/32

"
No

13/32

"
-40° to 210°
Yes
10
00000000
00000

3/8

"
10
__
Black

7/8

"
1

5/8

"

3/4

"

1/2

"

1/32

"
No

13/32

"
-40° to 210°
Yes
10
00000000
00000

1/2

"
13

1/8

Black
1"
1

7/8

"

3/4

"

5/8

"

1/32

"
No

13/32

"
-40° to 210°
Yes
10
00000000
00000

5/8

"
16

1/4

Black
1

1/8

"
2

1/8

"

3/4

"

3/4

"

1/32

"
No

13/32

"
-40° to 210°
Yes
10
00000000
00000

3/4

"
19

3/8

Black
1

1/4

"
2

3/8

"

3/4

"

7/8

"

1/32

"
No

13/32

"
-40° to 210°
Yes
10
00000000
00000

7/8

"
22

1/2

Black
1

3/8

"
2

5/8

"

3/4

"
1"

1/32

"
No

13/32

"
-40° to 210°
Yes
10
00000000
00000
1"
25
__
Black
1

1/2

"
2

7/8

"

3/4

"
1

1/8

"

1/32

"
No

13/32

"
-40° to 210°
Yes
10
00000000
00000
1

1/8

"
29

3/4

Black
1

11/16

"
3

1/8

"

3/4

"
1

1/4

"

3/64

"
No

13/32

"
-40° to 210°
Yes
5
00000000
00000
1

1/4

"
32
__
Black
1

13/16

"
3

3/8

"

3/4

"
1

3/8

"

3/64

"
No

13/32

"
-40° to 210°
Yes
5
00000000
00000

Silicone Rubber Cushion

1/2

"
13

1/8

Red
1"
1

7/8

"

3/4

"

5/8

"

1/32

"
No

13/32

"
-60° to 400°
Yes
5
00000000
0000

5/8

"
16

1/4

Red
1

1/8

"
2

1/8

"

3/4

"

3/4

"

1/32

"
No

13/32

"
-60° to 400°
Yes
5
00000000
0000

3/4

"
19

3/8

Red
1

1/4

"
2

3/8

"

3/4

"

7/8

"

1/32

"
No

13/32

"
-60° to 400°
Yes
5
00000000
0000

7/8

"
22

1/2

Red
1

3/8

"
2

5/8

"

3/4

"
1"

1/32

"
No

13/32

"
-60° to 400°
Yes
5
00000000
00000
1"
25
__
Red
1

1/2

"
2

7/8

"

3/4

"
1

1/8

"

1/32

"
No

13/32

"
-60° to 400°
Yes
5
00000000
00000
1

1/8

"
29

3/4

Red
1

11/16

"
3

1/8

"

3/4

"
1

1/4

"

3/64

"
No

13/32

"
-60° to 400°
Yes
5
00000000
00000
1

1/4

"
32
__
Red
1

13/16

"
3

3/8

"

3/4

"
1

3/8

"

3/64

"
No

13/32

"
-60° to 400°
Yes
5
00000000
00000