Drill Bit Decimal Size Equivalents
Steel Flat Head Tapping Screws for
Concrete,

Block,

and Brick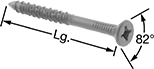 These blue and silver ultra-corrosion-resistant coated steel screws stand up to wet environments. These screws are beveled under the head for a flush finish in countersunk holes. Drive into a hole with a hammer drill or socket wrench, or use a specialized tool set (sold separately). Pull-out strength and shear strength values are 25% of the ultimate values.
Blue acrylic coated anchors are also known as Tapcons.
For technical drawings and 3-D models, click on a part number.
Lg.

Screw
Size
Drill
Bit
Size
Thread


Lg.

Min.




Install.




Dp.

Dia.

Ht.

Pull-Out

Shear
Tested
In
Drive
Style

Pkg.




Qty.

Pkg.

Each
Each

Blue Acrylic Coated Steel

2

1/4

"

3/16

"

5/32

"
1

5/8

"
1"

3/8

"
0.16"
150
180
3,000 psi Concrete
Torx

50
000000000
000000
000000000
00000
000000
000000

Blue

Corrosion-Resistant-Coated

Steel

1

1/4

"

3/16

"

5/32

"
1

3/32

"
1"

3/8

"
0.16"
150
180
3,000 psi Concrete
Torx

50
000000000
0000
000000
00
000000
00
2

3/4

"

3/16

"

5/32

"
1

5/8

"
1"

3/8

"
__
150
180
3,000 psi Concrete
Torx

50
000000000
00000
000000000
0000
000000
00000
3

1/4

"

3/16

"

5/32

"
1

5/8

"
1"

3/8

"
0.16"
150
180
3,000 psi Concrete
Torx

25
000000000
0000
000000
00
000000
00000
1

1/4

"

1/4

"

3/16

"
1

3/64

"
1"

1/2

"
0.21"
190
225
3,000 psi Concrete
Torx

50
000000000
00000
000000
00
000000
00
1

3/4

"

1/4

"

3/16

"
1

35/64

"
1"

1/2

"
0.21"
190
225
3,000 psi Concrete
Torx

50
000000000
00000
000000
00
000000
00
2

1/4

"

1/4

"

3/16

"
1

5/8

"
1"

1/2

"
0.21"
190
225
3,000 psi Concrete
Torx

50
000000000
00000
000000
00
000000
00
2

3/4

"

1/4

"

3/16

"
1

5/8

"
1"

1/2

"
0.21"
190
225
3,000 psi Concrete
Torx

25
000000000
0000
000000
00
000000
00
3

3/4

"

1/4

"

3/16

"
1

5/8

"
1"

1/2

"
0.21"
190
225
3,000 psi Concrete
Torx

25
000000000
00000
000000000
0000
000000000
0000
4"

1/4

"

3/16

"
1

5/8

"
1"

1/2

"
0.21"
190
225
3,000 psi Concrete
Torx

25
000000000
00000
000000
00
000000
00
5"

1/4

"

3/16

"
1

5/8

"
1"

1/2

"
0.21"
190
225
3,000 psi Concrete
Torx

10
000000000
00000
000000000
0000
000000
00
6"

1/4

"

3/16

"
1

5/8

"
1"

1/2

"
0.208"
190
225
3,000 psi Concrete
Torx

10
000000000
00000
000000000
0000
000000
00

Silver

Corrosion-Resistant-Coated

Steel

1

3/4

"

3/16

"

5/32

"
1

7/16

"
1"

3/8

"
0.151"
100
150
3,000 psi Concrete
Phillips

50
000000000
00000
000000000
0000
000000
00000
2

1/4

"

3/16

"

5/32

"
1

7/8

"
1"

3/8

"
0.141"
150
160
3,000 psi Concrete
Phillips

50
000000000
00000
000000000
0000
000000
00
2

1/4

"

5/16

"

1/4

"
1

1/2

"
1"

9/16

"
0.185"
170
210
3,500 psi Concrete
Phillips

25
000000000
00000
000000
00
000000000
00000
2

3/4

"

5/16

"

1/4

"
1

1/2

"
1"

9/16

"
0.186"
170
210
3,500 psi Concrete
Phillips

25
000000000
00000
000000
00
000000000
00000
| | | | |
| --- | --- | --- | --- |
| Installation Tool Set for 3/16" and 1/4" Dia. Screws | 000000000 | Each | 0000000 |