Swiveling Extension Spring Stud Anchors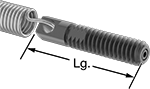 A black-oxide finish provides these steel anchors with mild corrosion resistance. The head swivels 360° so the spring stays straight and properly coiled. Attach an extension spring to a stud and then thread the stud into your part for a secure connection. To make tightening easier, anchors have a hex socket on the bottom and wrench flats at the top of the threads.
For technical drawings and 3-D models, click on a part number.
Size

Min.




Lg.

Lg.

Dia.

Hole


Dia.

Hex
Size
Material
Each
6-32

3/8

"

5/8

"
0.138"
0.08"
0.035"
Black-Oxide Steel
000000000
000000
8-32

5/8

"

7/8

"
0.164"
0.1"
0.05"
Black-Oxide Steel
000000000
00000
10-24

3/4

"
1

1/8

"

1/4

"
0.12"
0.05"
Black-Oxide Steel
000000000
00000
10-32

3/4

"
1

1/8

"

1/4

"
0.12"

1/16

"
Black-Oxide Steel
000000000
00000

1/4

"-20

7/8

"
1

1/4

"

1/4

"
0.15"

5/64

"
Black-Oxide Steel
000000000
00000

1/4

"-28

7/8

"
1

1/4

"

1/4

"
0.15"

5/64

"
Black-Oxide Steel
000000000
00000

3/8

"-16

1

1/8

"
1

5/8

"

3/8

"
0.22"

1/8

"
Black-Oxide Steel
000000000
00000

3/8

"-24

1

1/8

"
1

5/8

"

3/8

"
0.22"

1/8

"
Black-Oxide Steel
000000000
00000
Size

Pitch,


mm

Min.

Lg.,


mm

Lg.,


mm

Dia.,


mm
Hole


Dia.,

mm
Hex

Size,


mm
Material
Each
M3.5

0.6
10
16
3.5
2
0.9
Black-Oxide Steel
000000000
000000
M4

0.7
16
22
4
2.5
1.3
Black-Oxide Steel
000000000
00000
M5

0.8
19
28
5
3
1.5
Black-Oxide Steel
000000000
00000
M6

1
22
32
6
4
2
Black-Oxide Steel
000000000
00000
M8

1.25
25
38
8
5
2.5
Black-Oxide Steel
000000000
00000
M10

1.5
28
41
10
6
3
Black-Oxide Steel
000000000
00000