Selecting Clamps Using
Pipe,

Conduit,

or Tubing Trade Size
Two-Line

Rail-Mount

Vibration-Damping

Routing Clamps

Secure two pressurized hydraulic lines with a single clamp. Use the included rail nuts to mount these clamps onto rails (sold separately), no adhesive or welding required. They fit tightly around the lines to reduce vibration. To install, bolt or weld rails to the mounting surface, then attach clamps.
Zinc-plated steel plates have good corrosion resistance. 304 stainless steel plates have excellent corrosion resistance.
Note: Not for use with strut channel or strut-mount clamps. For strut mount clamps, see Vibration-Damping Strut-Mount Clamps.
For technical drawings and 3-D models, click on a part number.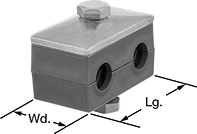 Inch

Metric,


mm
For
Pipe
Size

Color

Lg.

Wd.

Ht.

Mounting
Hardware
Included
Thread
Size

Lg.

Max.




Pressure,


psi

Temp.




Range,




°F

For
Use
Outdoors
Specifications
Met
Each

Polypropylene Plastic

Zinc-Plated

Steel Top Plate

1/4

"
6
__
Green
1

7/16

"
1

3/16

"
1

1/16

"
Yes

1/4

"-20

1

3/8

"
2,000
-20° to 190°
No
DIN 3015-3
00000000
00000

3/8

"
10
__
Green
1

7/16

"
1

3/16

"
1

1/16

"
Yes

1/4

"-20

1

3/8

"
2,000
-20° to 190°
No
DIN 3015-3
00000000
0000

1/2

"
13

1/8

Green
2

1/8

"
1

3/16

"
1

1/16

"
Yes

5/16

"-18

1

3/8

"
2,000
-20° to 190°
No
DIN 3015-3
0000000
0000

5/8

"
16

1/4

Green
2

1/8

"
1

3/16

"
1

1/16

"
Yes

5/16

"-18

1

3/8

"
2,000
-20° to 190°
No
DIN 3015-3
0000000
0000

11/16

"
17

3/8

Green
2

1/8

"
1

3/16

"
1

1/16

"
Yes

5/16

"-18

1

3/8

"
2,000
-20° to 190°
No
DIN 3015-3
0000000
0000

3/4

"
19

3/8

Green
2

11/16

"
1

3/16

"
1

1/2

"
Yes

5/16

"-18

1

3/4

"
2,000
-20° to 190°
No
DIN 3015-3
0000000
0000

13/16

"
21

1/2

Green
2

11/16

"
1

3/16

"
1

1/2

"
Yes

5/16

"-18

1

3/4

"
2,000
-20° to 190°
No
DIN 3015-3
0000000
0000
1"
25
__
Green
2

11/16

"
1

3/16

"
1

1/2

"
Yes

5/16

"-18

1

3/4

"
2,000
-20° to 190°
No
DIN 3015-3
0000000
0000
1

1/16

"
27

3/4

Green
3

3/16

"
1

3/16

"
1

5/8

"
Yes

5/16

"-18

2"
2,000
-20° to 190°
No
DIN 3015-3
0000000
0000
1

1/4

"
32
__
Green
4

3/16

"
1

3/16

"
2

1/8

"
Yes

5/16

"-18

2

1/2

"
2,000
-20° to 190°
No
DIN 3015-3
0000000
0000
1

5/16

"
33
1

Green
4

3/16

"
1

3/16

"
2

1/8

"
Yes

5/16

"-18

2

1/2

"
2,000
-20° to 190°
No
DIN 3015-3
0000000
0000
1

1/2

"
38
__
Green
4

3/16

"
1

3/16

"
2

1/8

"
Yes

5/16

"-18

2

1/2

"
2,000
-20° to 190°
No
DIN 3015-3
0000000
0000

304 Stainless Steel Top Plate

1/4

"
6
__
Green
1

7/16

"
1

3/16

"
1

1/16

"
Yes

1/4

"-20

1

3/8

"
2,000
-20° to 190°
No
DIN 3015-3
00000000
00000

3/8

"
10
__
Green
1

7/16

"
1

3/16

"
1

1/16

"
Yes

1/4

"-20

1

3/8

"
2,000
-20° to 190°
No
DIN 3015-3
00000000
00000

1/2

"
13

1/8

Green
2

1/8

"
1

3/16

"
1

1/16

"
Yes

5/16

"-18

1

3/8

"
2,000
-20° to 190°
No
DIN 3015-3
0000000
00000

5/8

"
16

1/4

Green
2

1/8

"
1

3/16

"
1

1/16

"
Yes

5/16

"-18

1

3/8

"
2,000
-20° to 190°
No
DIN 3015-3
0000000
00000

11/16

"
17

3/8

Green
2

1/8

"
1

3/16

"
1

1/16

"
Yes

5/16

"-18

1

3/8

"
2,000
-20° to 190°
No
DIN 3015-3
0000000
00000

3/4

"
19

3/8

Green
2

11/16

"
1

3/16

"
1

1/2

"
Yes

5/16

"-18

1

3/4

"
2,000
-20° to 190°
No
DIN 3015-3
0000000
00000

13/16

"
21

1/2

Green
2

11/16

"
1

3/16

"
1

1/2

"
Yes

5/16

"-18

1

3/4

"
2,000
-20° to 190°
No
DIN 3015-3
0000000
00000
1"
25
__
Green
2

11/16

"
1

3/16

"
1

1/2

"
Yes

5/16

"-18

1

3/4

"
2,000
-20° to 190°
No
DIN 3015-3
0000000
00000
1

1/16

"
27

3/4

Green
3

3/16

"
1

3/16

"
1

5/8

"
Yes

5/16

"-18

2"
2,000
-20° to 190°
No
DIN 3015-3
0000000
00000
1

1/4

"
32
__
Green
4

3/16

"
1

3/16

"
2

1/8

"
Yes

5/16

"-18

2

1/2

"
2,000
-20° to 190°
No
DIN 3015-3
0000000
00000
1

5/16

"
33
1

Green
4

3/16

"
1

3/16

"
2

1/8

"
Yes

5/16

"-18

2

1/2

"
2,000
-20° to 190°
No
DIN 3015-3
0000000
00000
1

1/2

"
38
__
Green
4

3/16

"
1

3/16

"
2

1/8

"
Yes

5/16

"-18

2

1/2

"
2,000
-20° to 190°
No
DIN 3015-3
0000000
00000

Lg.

Wd.

Ht.

Opening


Wd.

For

Max.




Pressure,

psi
Each

Steel

39

3/8

"
1

1/8

"

7/16

"

7/16

"
2,000
00000000
00000
39

3/8

"
1

1/8

"

9/16

"

7/16

"
2,000
0000000
0000
39

3/8

"
1

1/8

"
1

3/16

"

7/16

"
2,000
00000000
00000
78

3/4

"
1

1/8

"

7/16

"

7/16

"
2,000
00000000
00000
78

3/4

"
1

1/8

"

9/16

"

7/16

"
2,000
00000000
00000
78

3/4

"
1

1/8

"
1

3/16

"

7/16

"
2,000
00000000
00000

304 Stainless Steel

39

3/8

"
1

1/8

"

7/16

"

7/16

"
2,000
00000000
00000
39

3/8

"
1

1/8

"

9/16

"

7/16

"
2,000
00000000
00000
39

3/8

"
1

1/8

"
1

3/16

"

7/16

"
2,000
00000000
00000
78

3/4

"
1

1/8

"

7/16

"

7/16

"
2,000
00000000
00000
78

3/4

"
1

1/8

"

9/16

"

7/16

"
2,000
00000000
00000
78

3/4

"
1

1/8

"
1

3/16

"

7/16

"
2,000
00000000
000000