Selecting
U-Bolts

Using

Pipe,

Conduit,

or Tubing Trade Size
U-Bolts

with Mounting Plates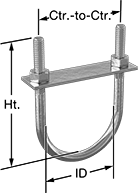 A mounting plate provides a more secure hold at the mounting surface. Stronger than routing clamps and hangers, U-bolts support heavy pipe, tube, and conduit from ceilings, walls, and poles.
Black-oxide steel U-bolts have mild corrosion resistance. Zinc-plated steel U-bolts have good corrosion resistance in most environments. Galvanized steel U-bolts have better corrosion resistance than black-oxide and zinc-plated steel U-bolts. 304 stainless steel U-bolts have excellent corrosion resistance and good chemical resistance.
U-bolts with four nuts allow you to secure the U-bolt from the top and the bottom.
For technical drawings and 3-D models, click on a part number.
Inch

Metric,


mm
For
Pipe
Size

Ht.

Thread


Lg.

Capacity,




lbs.

Ctr.-to-Ctr.

No.


Included
Material

Lg.

Wd.

Thick.

No.

of
Nuts
Included
Each

1/4"-20

Thread Size

9/16

"
14

1/4

1

1/4

"

3/4

"
425

13/16

"
1
Black-Oxide Steel
1

7/16

"

3/4

"

3/32

"
2
0000000
00000

3/4

"
19

3/8

1

1/4

"

5/8

"
425
1"
1
Black-Oxide Steel
1

5/8

"

3/4

"

3/32

"
2
0000000
0000

3/4

"
19

3/8

2

1/4

"
1

1/2

"
425
1"
1
Black-Oxide Steel
1

5/8

"

3/4

"

3/32

"
2
0000000
0000
1"
25
__
1

3/4

"
1"
425
1

1/4

"
1
Black-Oxide Steel
1

7/8

"

3/4

"

3/32

"
2
0000000
0000
1

1/8

"
29

3/4

2"
1"
425
1

3/8

"
1
Black-Oxide Steel
2"

3/4

"

3/32

"
2
0000000
0000
1

1/4

"
32
__
2

1/4

"
1

1/4

"
425
1

1/2

"
1
Black-Oxide Steel
2

1/8

"

3/4

"

3/32

"
2
0000000
0000
1

1/2

"
38
1

2

3/4

"
1

3/8

"
425
1

3/4

"
1
Black-Oxide Steel
2

3/8

"

3/4

"

3/32

"
2
0000000
0000
1

3/4

"
44
1

1/4

3"
1

3/8

"
425
2"
1
Black-Oxide Steel
2

5/8

"

3/4

"

3/32

"
2
0000000
0000
2"
51
1

1/2

3

1/4

"
1

3/8

"
425
2

1/4

"
1
Black-Oxide Steel
2

7/8

"

3/4

"

3/32

"
2
0000000
0000

5/16"-18

Thread Size

1"
25
__
2

3/16

"
1

3/8

"
600
1

5/16

"
1
Black-Oxide Steel
2

1/16

"

3/4

"

3/32

"
2
0000000
0000
1

3/8

"
35
1

2

3/16

"
1"
600
1

11/16

"
1
Black-Oxide Steel
2

7/16

"

3/4

"

3/32

"
2
0000000
0000
1

1/2

"
38
1

2

3/16

"
1"
600
1

13/16

"
1
Black-Oxide Steel
2

9/16

"

3/4

"

3/32

"
2
0000000
0000
1

3/4

"
44
1

1/4

2

11/16

"
1

1/8

"
600
2

1/16

"
1
Black-Oxide Steel
2

13/16

"

3/4

"

3/32

"
2
0000000
0000
2"
51
1

1/2

2

11/16

"
1"
600
2

5/16

"
1
Black-Oxide Steel
3

1/16

"

3/4

"

3/32

"
2
0000000
0000
2

1/2

"
64
2

3

3/16

"
1"
600
2

13/16

"
1
Black-Oxide Steel
3

9/16

"

3/4

"

3/32

"
2
0000000
0000
3"
76
2

1/2

3

11/16

"
1"
600
3

5/16

"
1
Black-Oxide Steel
4

1/16

"

3/4

"

3/32

"
2
0000000
0000

3/8"-16

Thread Size

1"
25
__
2

1/4

"
1

1/4

"
1,075
1

3/8

"
1
Black-Oxide Steel
2

1/4

"
1"

1/8

"
2
0000000
0000
1

1/4

"
32
__
2

1/4

"
1

1/4

"
1,075
1

5/8

"
1
Black-Oxide Steel
2

1/2

"
1"

1/8

"
2
0000000
0000
1

1/2

"
38
1

2

1/2

"
1

1/4

"
1,075
1

7/8

"
1
Black-Oxide Steel
2

3/4

"
1"

1/8

"
2
0000000
0000
1

3/4

"
44
1

1/4

2

3/4

"
1

1/8

"
1,075
2

1/8

"
1
Black-Oxide Steel
3"
1"

1/8

"
2
0000000
0000
2"
51
1

1/2

2

5/8

"
1

1/4

"
1,075
2

3/8

"
1
Black-Oxide Steel
3

1/4

"
1"

1/8

"
2
0000000
0000
2

1/2

"
64
2

3

1/8

"
1

1/4

"
1,075
2

7/8

"
1
Black-Oxide Steel
3

3/4

"
1"

1/8

"
2
0000000
0000
3"
76
2

1/2

3

5/8

"
1

1/4

"
1,075
3

3/8

"
1
Black-Oxide Steel
4

1/4

"
1"

1/8

"
2
0000000
0000
3

1/2

"
89
3

4

1/8

"
1

1/4

"
1,075
3

7/8

"
1
Black-Oxide Steel
4

3/4

"
1"

1/8

"
2
0000000
0000

1/2"-13

Thread Size

3"
76
2

1/2

4

1/2

"
1

5/8

"
2,000
3

1/2

"
1
Black-Oxide Steel
4

5/8

"
1"

1/8

"
2
0000000
0000
3

1/2

"
89
3

5"
1

1/2

"
2,000
4"
1
Black-Oxide Steel
5

1/8

"
1"

1/8

"
2
0000000
0000
4"
102
3

1/2

5

1/2

"
1

1/2

"
2,000
4

1/2

"
1
Black-Oxide Steel
5

5/8

"
1"

1/8

"
2
0000000
0000
4

1/2

"
114
4

6"
1

1/2

"
2,000
5"
1
Black-Oxide Steel
6

1/8

"
1"

1/8

"
2
0000000
0000

1/4"-20

Thread Size

9/16

"
14

1/4

1

1/4

"

3/4

"
425

13/16

"
1
Zinc-Plated Steel
1

7/16

"

3/4

"

3/32

"
2
00000000
000

3/4

"
19

3/8

1

1/4

"

5/8

"
425
1"
1
Zinc-Plated Steel
1

5/8

"

3/4

"

3/32

"
2
00000000
000

3/4

"
19

3/8

2

1/4

"
1

1/2

"
425
1"
1
Zinc-Plated Steel
1

5/8

"

3/4

"

3/32

"
2
00000000
000
1"
25
__
1

3/4

"
1"
425
1

1/4

"
1
Zinc-Plated Steel
1

7/8

"

3/4

"

3/32

"
2
00000000
000
1

1/8

"
29

3/4

2"
1"
425
1

3/8

"
1
Zinc-Plated Steel
2"

3/4

"

3/32

"
2
00000000
000
1

1/4

"
32
__
2

1/4

"
1

1/4

"
425
1

1/2

"
1
Zinc-Plated Steel
2

1/8

"

3/4

"

3/32

"
2
00000000
0000
1

1/2

"
38
1

2

3/4

"
1

3/8

"
425
1

3/4

"
1
Zinc-Plated Steel
2

3/8

"

3/4

"

3/32

"
2
00000000
0000
1

3/4

"
44
1

1/4

3"
1

3/8

"
425
2"
1
Zinc-Plated Steel
2

5/8

"

3/4

"

3/32

"
2
00000000
0000
2"
51
1

1/2

3

1/4

"
1

3/8

"
425
2

1/4

"
1
Zinc-Plated Steel
2

7/8

"

3/4

"

3/32

"
2
00000000
0000

5/16"-18

Thread Size

1"
25
__
2

3/16

"
1

3/8

"
600
1

5/16

"
1
Zinc-Plated Steel
2

1/16

"

3/4

"

3/32

"
2
00000000
0000
1

3/8

"
35
1

2

3/16

"
1"
600
1

11/16

"
1
Zinc-Plated Steel
2

7/16

"

3/4

"

3/32

"
2
00000000
0000
1

1/2

"
38
1

2

3/16

"
1"
600
1

13/16

"
1
Zinc-Plated Steel
2

9/16

"

3/4

"

3/32

"
2
00000000
0000
1

3/4

"
44
1

1/4

2

11/16

"
1

1/8

"
600
2

1/16

"
1
Zinc-Plated Steel
2

13/16

"

3/4

"

3/32

"
2
00000000
0000
2"
51
1

1/2

2

11/16

"
1"
600
2

5/16

"
1
Zinc-Plated Steel
3

1/16

"

3/4

"

3/32

"
2
00000000
0000
2

1/2

"
64
2

3

3/16

"
1"
600
2

13/16

"
1
Zinc-Plated Steel
3

9/16

"

3/4

"

3/32

"
2
00000000
0000
3"
76
2

1/2

3

11/16

"
1"
600
3

5/16

"
1
Zinc-Plated Steel
4

1/16

"

3/4

"

3/32

"
2
00000000
0000

3/8"-16

Thread Size

1"
25
__
2

1/4

"
1

1/4

"
1,075
1

3/8

"
1
Zinc-Plated Steel
2

1/4

"
1"

1/8

"
2
0000000
0000
1

1/4

"
32
__
2

1/4

"
1

1/4

"
1,075
1

5/8

"
1
Zinc-Plated Steel
2

1/2

"
1"

1/8

"
2
0000000
0000
1

1/2

"
38
1

2

1/2

"
1

1/4

"
1,075
1

7/8

"
1
Zinc-Plated Steel
2

3/4

"
1"

1/8

"
2
0000000
0000
1

3/4

"
44
1

1/4

2

3/4

"
1

1/8

"
1,075
2

1/8

"
1
Zinc-Plated Steel
3"
1"

1/8

"
2
0000000
0000
2"
51
1

1/2

2

5/8

"
1

1/4

"
1,075
2

3/8

"
1
Zinc-Plated Steel
3

1/4

"
1"

1/8

"
2
0000000
0000
2

1/2

"
64
2

3

1/8

"
1

1/4

"
1,075
2

7/8

"
1
Zinc-Plated Steel
3

3/4

"
1"

1/8

"
2
0000000
0000
3"
76
2

1/2

3

5/8

"
1

1/4

"
1,075
3

3/8

"
1
Zinc-Plated Steel
4

1/4

"
1"

1/8

"
2
0000000
0000
3

1/2

"
89
3

4

1/8

"
1

1/4

"
1,075
3

7/8

"
1
Zinc-Plated Steel
4

3/4

"
1"

1/8

"
2
0000000
0000

1/2"-13

Thread Size

2

15/16

"
75
2

1/2

5

1/4

"
3"
2,000
3

7/16

"
1
Zinc-Plated Steel
4

9/16

"
1"

1/8

"
2
0000000
0000
3"
76
2

1/2

4

1/2

"
1

5/8

"
2,000
3

1/2

"
1
Zinc-Plated Steel
4

5/8

"
1"

1/8

"
2
0000000
0000
3

1/2

"
89
3

5"
1

1/2

"
2,000
4"
1
Zinc-Plated Steel
5

1/8

"
1"

1/8

"
2
0000000
0000
3

9/16

"
90
3

5

3/4

"
3"
2,000
4

1/16

"
1
Zinc-Plated Steel
5

3/16

"
1"

1/8

"
2
0000000
0000
4"
102
3

1/2

5

1/2

"
1

1/2

"
2,000
4

1/2

"
1
Zinc-Plated Steel
5

5/8

"
1"

1/8

"
2
0000000
0000
4

1/16

"
103
3

1/2

6

1/4

"
3"
2,000
4

9/16

"
1
Zinc-Plated Steel
5

11/16

"
1"

1/8

"
2
0000000
0000
4

1/2

"
114
4

6"
1

1/2

"
2,000
5"
1
Zinc-Plated Steel
6

1/8

"
1"

1/8

"
2
0000000
0000
4

9/16

"
116
4

6

3/4

"
3"
2,000
5

1/16

"
1
Zinc-Plated Steel
6

3/16

"
1"

1/8

"
2
0000000
0000

Galvanized Steel

1/4"-20

Thread Size

9/16

"
14

1/4

1

1/4

"

3/4

"
425

13/16

"
1
Galvanized Steel
1

7/16

"

3/4

"

3/32

"
2
0000000
0000

3/4

"
19

3/8

1

1/4

"

5/8

"
425
1"
1
Galvanized Steel
1

5/8

"

3/4

"

3/32

"
2
0000000
0000

3/4

"
19

3/8

2

1/4

"
1

1/2

"
425
1"
1
Galvanized Steel
1

5/8

"

3/4

"

3/32

"
2
0000000
0000
1"
25
__
1

3/4

"
1"
425
1

1/4

"
1
Galvanized Steel
1

7/8

"

3/4

"

3/32

"
2
0000000
0000
1

1/8

"
29

3/4

2"
1"
425
1

3/8

"
1
Galvanized Steel
2"

3/4

"

3/32

"
2
0000000
0000
1

1/4

"
32
__
2

1/4

"
1

1/4

"
425
1

1/2

"
1
Galvanized Steel
2

1/8

"

3/4

"

3/32

"
2
0000000
0000
1

1/2

"
38
1

2

3/4

"
1

3/8

"
425
1

3/4

"
1
Galvanized Steel
2

3/8

"

3/4

"

3/32

"
2
0000000
0000
1

3/4

"
44
1

1/4

3"
1

3/8

"
425
2"
1
Galvanized Steel
2

5/8

"

3/4

"

3/32

"
2
0000000
0000
2"
51
1

1/2

3

1/4

"
1

3/8

"
425
2

1/4

"
1
Galvanized Steel
2

7/8

"

3/4

"

3/32

"
2
0000000
0000

5/16"-18

Thread Size

1"
25
__
2

3/16

"
1

3/8

"
600
1

5/16

"
1
Galvanized Steel
2

1/16

"

3/4

"

3/32

"
2
0000000
0000
1

1/2

"
38
1

2

3/16

"
1"
600
1

13/16

"
1
Galvanized Steel
2

9/16

"

3/4

"

3/32

"
2
0000000
0000
1

3/4

"
44
1

1/4

2

11/16

"
1

1/8

"
600
2

1/16

"
1
Galvanized Steel
2

13/16

"

3/4

"

3/32

"
2
0000000
0000
2"
51
1

1/2

2

11/16

"
1"
600
2

5/16

"
1
Galvanized Steel
3

1/16

"

3/4

"

3/32

"
2
0000000
0000
2

1/2

"
64
2

3

3/16

"
1"
600
2

13/16

"
1
Galvanized Steel
3

9/16

"

3/4

"

3/32

"
2
0000000
0000
3"
76
2

1/2

3

11/16

"
1"
600
3

5/16

"
1
Galvanized Steel
4

1/16

"

3/4

"

3/32

"
2
0000000
0000