Wire Rope Clamp and Thimble
Kits—

Not for Lifting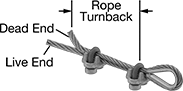 Clamp

Thimble
Kits include clamps and thimbles to protect the inside of wire rope loops from fraying. Clamps must be oriented with the saddle on the long (live) end and U-bolt on the short (dead) end.
Galvanized steel and iron clamps and thimbles are corrosion resistant.
18-8 stainless steel clamps and thimbles are chemical resistant.
Warning: Test all assemblies for required strength before use. Do not use with coated rope unless the coating is removed.
For Wire
Rope


Dia.

No.


of
Clamps
Rope
Turnback
For Wire
Rope
Construction

Wd.

Ht.

Thick.

No.


of
Thimbles
Fabrication
Required


Torque,




ft.-lbs.

Capacity
Specifications
Met
Each

Galvanized Steel Clamps with Galvanized Steel Thimble

1/8

"
2
3

1/4

"
1 × 7 Strand Core
1 × 19 Strand Core
6 × 7 Fiber Core
6 × 19 IWRC
6 × 19 Fiber Core
6 × 26 IWRC
6 × 37 IWRC
7 × 7 Strand Core
7 × 19 IWRC
7 × 19 Strand Core
18 × 7 IWRC

7/8

"

31/32

"

3/8

"
1
Forged
4.5
Not Rated
Fed. Spec. FF-C-450
0000000
00000

3/16

"
2
3

3/4

"
1 × 7 Strand Core
1 × 19 Strand Core
6 × 7 Fiber Core
6 × 19 IWRC
6 × 19 Fiber Core
6 × 26 IWRC
6 × 37 IWRC
7 × 7 Strand Core
7 × 19 IWRC
7 × 19 Strand Core
18 × 7 IWRC
1"
1

5/32

"

7/16

"
1
Forged
7.5
Not Rated
Fed. Spec. FF-C-450
0000000
0000

1/4

"
2
4

3/4

"
1 × 7 Strand Core
1 × 19 Strand Core
6 × 7 Fiber Core
6 × 19 IWRC
6 × 19 Fiber Core
6 × 26 IWRC
6 × 37 IWRC
7 × 7 Strand Core
7 × 19 IWRC
7 × 19 Strand Core
18 × 7 IWRC
19 × 7 Strand Core
1

1/4

"
1

13/32

"

9/16

"
1
Forged
15
Not Rated
Fed. Spec. FF-C-450
0000000
00000

5/16

"
2
5

1/4

"
1 × 7 Strand Core
1 × 19 Strand Core
6 × 7 Fiber Core
6 × 19 IWRC
6 × 19 Fiber Core
6 × 26 IWRC
6 × 37 IWRC
7 × 7 Strand Core
7 × 19 IWRC
7 × 19 Strand Core
18 × 7 IWRC
19 × 7 Strand Core
1

9/16

"
1

13/16

"

11/16

"
1
Forged
30
Not Rated
Fed. Spec. FF-C-450
0000000
00000

3/8

"
2
6

1/2

"
1 × 7 Strand Core
1 × 19 Strand Core
6 × 7 Fiber Core
6 × 19 IWRC
6 × 19 Fiber Core
6 × 26 IWRC
6 × 37 IWRC
7 × 7 Strand Core
7 × 19 IWRC
7 × 19 Strand Core
18 × 7 IWRC
19 × 7 Strand Core
1

7/8

"
2

1/4

"

7/8

"
1
Forged
45
Not Rated
Fed. Spec. FF-C-450
0000000
00000

7/16

"
2
7"
1 × 7 Strand Core
1 × 19 Strand Core
6 × 7 Fiber Core
6 × 19 IWRC
6 × 19 Fiber Core
6 × 26 IWRC
6 × 37 IWRC
7 × 7 Strand Core
7 × 19 IWRC
7 × 19 Strand Core
18 × 7 IWRC
19 × 7 Strand Core
2

1/16

"
2

3/8

"

7/8

"
1
Forged
65
Not Rated
Fed. Spec. FF-C-450
0000000
00000

1/2

"
3
11

1/2

"
1 × 7 Strand Core
1 × 19 Strand Core
6 × 7 Fiber Core
6 × 19 IWRC
6 × 19 Fiber Core
6 × 26 IWRC
6 × 37 IWRC
7 × 7 Strand Core
7 × 19 IWRC
7 × 19 Strand Core
18 × 7 IWRC
19 × 7 Strand Core
2

1/16

"
2

41/64

"

7/8

"
1
Forged
65
Not Rated
Fed. Spec. FF-C-450
0000000
00000

5/8

"
3
12"
1 × 7 Strand Core
1 × 19 Strand Core
6 × 7 Fiber Core
6 × 19 IWRC
6 × 19 Fiber Core
6 × 26 IWRC
6 × 37 IWRC
7 × 7 Strand Core
7 × 19 IWRC
7 × 19 Strand Core
18 × 7 IWRC
19 × 7 Strand Core
2

3/8

"
3

1/4

"
1

1/16

"
1
Forged
95
Not Rated
Fed. Spec. FF-C-450
0000000
00000

3/4

"
4
18"
1 × 7 Strand Core
1 × 19 Strand Core
6 × 7 Fiber Core
6 × 19 IWRC
6 × 19 Fiber Core
6 × 26 IWRC
6 × 37 IWRC
7 × 7 Strand Core
7 × 19 IWRC
7 × 19 Strand Core
18 × 7 IWRC
19 × 7 Strand Core
2

9/16

"
3

5/16

"
1

1/16

"
1
Forged
130
Not Rated
Fed. Spec. FF-C-450
0000000
00000

Galvanized Iron Clamps with Galvanized Steel Thimble

1/16

"
2
2

3/4

"
1 × 7 Strand Core
1 × 19 Strand Core
3 × 7 IWRC
3 × 7 Hollow Core
6 × 7 Fiber Core
7 × 7 IWRC
7 × 7 Strand Core

11/16

"

13/16

"

7/16

"
1
Cast
__
Not Rated
Fed. Spec. FF-C-450
0000000
0000

1/8

"
3
4

3/4

"
1 × 7 Strand Core
1 × 19 Strand Core
6 × 7 Fiber Core
6 × 19 IWRC
6 × 19 Fiber Core
6 × 26 IWRC
6 × 37 IWRC
7 × 7 Strand Core
7 × 19 IWRC
7 × 19 Strand Core

7/8

"

31/32

"

3/8

"
1
Cast
3
Not Rated
Fed. Spec. FF-C-450
0000000
0000

3/16

"
3
5

1/2

"
1 × 7 Strand Core
1 × 19 Strand Core
6 × 7 Fiber Core
6 × 19 IWRC
6 × 19 Fiber Core
6 × 26 IWRC
6 × 37 IWRC
7 × 7 Strand Core
7 × 19 IWRC
7 × 19 Strand Core
1"
1

5/32

"

7/16

"
1
Cast
4.5
Not Rated
Fed. Spec. FF-C-450
0000000
0000

1/4

"
3
7"
1 × 7 Strand Core
1 × 19 Strand Core
6 × 7 Fiber Core
6 × 19 IWRC
6 × 19 Fiber Core
6 × 26 IWRC
6 × 37 IWRC
7 × 7 Strand Core
7 × 19 IWRC
7 × 19 Strand Core
1

1/4

"
1

13/32

"

9/16

"
1
Cast
15
Not Rated
Fed. Spec. FF-C-450
0000000
0000

5/16

"
3
7

3/4

"
1 × 7 Strand Core
1 × 19 Strand Core
6 × 7 Fiber Core
6 × 19 IWRC
6 × 19 Fiber Core
6 × 26 IWRC
6 × 37 IWRC
7 × 7 Strand Core
7 × 19 IWRC
7 × 19 Strand Core
18 × 7 IWRC
19 × 7 Strand Core
1

9/16

"
1

13/16

"

11/16

"
1
Cast
15
Not Rated
Fed. Spec. FF-C-450
0000000
0000

3/8

"
3
9

1/2

"
1 × 7 Strand Core
1 × 19 Strand Core
6 × 7 Fiber Core
6 × 19 IWRC
6 × 19 Fiber Core
6 × 26 IWRC
6 × 37 IWRC
7 × 7 Strand Core
7 × 19 IWRC
7 × 19 Strand Core
1

7/8

"
2

1/4

"

7/8

"
1
Cast
30
Not Rated
Fed. Spec. FF-C-450
0000000
0000

7/16

"
3
10

1/4

"
1 × 7 Strand Core
1 × 19 Strand Core
6 × 7 Fiber Core
6 × 19 IWRC
6 × 19 Fiber Core
6 × 26 IWRC
6 × 37 IWRC
7 × 7 Strand Core
7 × 19 IWRC
7 × 19 Strand Core
2

1/16

"
2

3/8

"

7/8

"
1
Cast
40
Not Rated
Fed. Spec. FF-C-450
0000000
00000

1/2

"
4
15

1/4

"
1 × 7 Strand Core
1 × 19 Strand Core
6 × 7 Fiber Core
6 × 19 IWRC
6 × 19 Fiber Core
6 × 26 IWRC
6 × 37 IWRC
7 × 7 Strand Core
7 × 19 IWRC
7 × 19 Strand Core
2

1/16

"
2

41/64

"

7/8

"
1
Cast
45
Not Rated
Fed. Spec. FF-C-450
0000000
00000

5/8

"
4
16"
1 × 7 Strand Core
1 × 19 Strand Core
6 × 7 Fiber Core
6 × 19 IWRC
6 × 19 Fiber Core
6 × 26 IWRC
6 × 37 IWRC
7 × 7 Strand Core
7 × 19 IWRC
7 × 19 Strand Core
2

3/8

"
3

1/4

"
1

1/16

"
1
Cast
75
Not Rated
Fed. Spec. FF-C-450
0000000
00000

3/4

"
5
22

1/4

"
1 × 7 Strand Core
1 × 19 Strand Core
6 × 7 Fiber Core
6 × 19 IWRC
6 × 19 Fiber Core
6 × 26 IWRC
6 × 37 IWRC
7 × 7 Strand Core
7 × 19 IWRC
7 × 19 Strand Core
2

9/16

"
3

5/16

"
1

1/16

"
1
Cast
75
Not Rated
Fed. Spec. FF-C-450
0000000
00000

18-8

Stainless Steel Clamps with

18-8

Stainless Steel Thimble

1/16

"
1
3

1/4

"
1 × 7 Strand Core
1 × 19 Strand Core
3 × 7 IWRC
3 × 7 Hollow Core
6 × 7 Fiber Core
6 × 19 IWRC
6 × 19 Fiber Core
6 × 26 IWRC
6 × 37 IWRC
7 × 7 IWRC
7 × 7 Strand Core
7 × 19 IWRC
7 × 19 Strand Core
18 × 7 IWRC
19 × 7 Strand Core

17/32

"

13/32

"

9/16

"
1
Cast
__
80% of the Rope's Capacity
__
0000000
0000

1/8

"
2
3

1/4

"
1 × 19 Strand Core
7 × 7 Strand Core
7 × 19 IWRC
7 × 19 Strand Core

5/8

"

13/16

"

9/16

"
1
Cast
Not Rated
80% of the Rope's Capacity
__
0000000
0000

3/16

"
2
3

3/4

"
1 × 19 Strand Core
7 × 7 Strand Core
7 × 19 IWRC
7 × 19 Strand Core

7/8

"
1"

13/16

"
1
Cast
Not Rated
80% of the Rope's Capacity
__
0000000
0000

1/4

"
2
4

3/4

"
1 × 19 Strand Core
7 × 7 Strand Core
7 × 19 IWRC
7 × 19 Strand Core
1

1/8

"
1

3/8

"

7/8

"
1
Cast
8
80% of the Rope's Capacity
__
0000000
00000

5/16

"
2
5

1/4

"
1 × 19 Strand Core
7 × 7 Strand Core
7 × 19 IWRC
7 × 19 Strand Core
1

3/8

"
1

11/16

"
1

1/16

"
1
Cast
15
80% of the Rope's Capacity
__
0000000
00000

3/8

"
2
6

1/2

"
1 × 19 Strand Core
7 × 7 Strand Core
7 × 19 IWRC
7 × 19 Strand Core
1

3/4

"
2

1/16

"
1

3/8

"
1
Cast
30
80% of the Rope's Capacity
__
0000000
00000

7/16

",

1/2

"
2
11

1/2

"
1 × 19 Strand Core
7 × 7 Strand Core
7 × 19 IWRC
7 × 19 Strand Core
2"
2

1/2

"
1

1/2

"
1
Cast
45
80% of the Rope's Capacity
__
0000000
00000

1/2

",

9/16

"
3
12"
1 × 19 Strand Core
7 × 7 Strand Core
7 × 19 IWRC
7 × 19 Strand Core
2

1/16

"
2

11/16

"
1

3/4

"
1
Cast
95
80% of the Rope's Capacity
__
0000000
00000

5/8

"
3
12"
1 × 19 Strand Core
7 × 7 Strand Core
7 × 19 IWRC
7 × 19 Strand Core
2

3/8

"
3

1/8

"
1

7/8

"
1
Cast
95
80% of the Rope's Capacity
__
0000000
00000

3/4

"
4
18"
1 × 19 Strand Core
7 × 7 Strand Core
7 × 19 IWRC
7 × 19 Strand Core
2

7/16

"
3

1/8

"
2

1/16

"
1
Cast
130
80% of the Rope's Capacity
__
0000000
000000