Eye-Strain-Relief

Glasses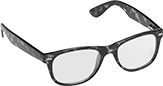 A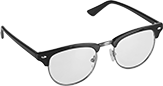 B
Ease painful eye strain while looking at computer, smart phone, and tablet screens for long periods of time. These glasses filter out blue light from electronic devices and eliminate glare for clearer vision. They also block out harmful UV rays. Made of lightweight polycarbonate, these glasses are comfortable for long-term wear. They have spring-hinged arms that gently hug your face, so they won't slip down your nose. The lenses on these glasses won't scratch.
Glasses with magnification enhance the details of your screen. Magnifying power is measured in diopters—each diopter increases the size of the object in view by 25%.
You can adjust glasses with a padded nosepiece for a comfortable custom fit around your nose.
Style
Diopter
Magnification
Properties
Color
Frame
Color

Temple-to-Temple


Width
UV
Protection
Rating
Features
Each

Traditional Polycarbonate Plastic Lens

Without Magnifiers

A
__
__
Scratch Resistant, Glare Resistant, Blue-Light Filtering
Clear
Brown Tortoise Shell
5

3/8

"
100.0%
Spring-Hinged Arms
0000000
000000
B
__
__
Scratch Resistant, Glare Resistant, Blue-Light Filtering
Clear
Solid Black
5

1/2

"
100.0%
Spring-Hinged Arms, Padded Nosepiece
0000000
00000

With

Top/Bottom

Magnifiers

A
1.0
1.25X (125%)
Scratch Resistant, Glare Resistant, Blue-Light Filtering
Clear
Brown Tortoise Shell
5

1/2

"
100.0%
Spring-Hinged Arms
0000000
00000
A
2.0
1.50X (150%)
Scratch Resistant, Glare Resistant, Blue-Light Filtering
Clear
Brown Tortoise Shell
5

1/2

"
100.0%
Spring-Hinged Arms
0000000
00000
A
3.0
1.75X (175%)
Scratch Resistant, Glare Resistant, Blue-Light Filtering
Clear
Brown Tortoise Shell
5

1/2

"
100.0%
Spring-Hinged Arms
0000000
00000
A
4.0
2X (200%)
Scratch Resistant, Glare Resistant, Blue-Light Filtering
Clear
Brown Tortoise Shell
5

1/2

"
100.0%
Spring-Hinged Arms
0000000
00000
A
5.0
2.25X (225%)
Scratch Resistant, Glare Resistant, Blue-Light Filtering
Clear
Brown Tortoise Shell
5

1/2

"
100.0%
Spring-Hinged Arms
0000000
00000
A
6.0
2.5X (250%)
Scratch Resistant, Glare Resistant, Blue-Light Filtering
Clear
Brown Tortoise Shell
5

1/2

"
100.0%
Spring-Hinged Arms
0000000
00000
A
8.0
3X (300%)
Scratch Resistant, Glare Resistant, Blue-Light Filtering
Clear
Brown Tortoise Shell
5

1/2

"
100.0%
Spring-Hinged Arms
0000000
00000
B
1.0
1.25X (125%)
Scratch Resistant, Glare Resistant, Blue-Light Filtering
Clear
Solid Black
5

1/2

"
100.0%
Spring-Hinged Arms, Padded Nosepiece
0000000
00000
B
2.0
1.50X (150%)
Scratch Resistant, Glare Resistant, Blue-Light Filtering
Clear
Solid Black
5

1/2

"
100.0%
Spring-Hinged Arms, Padded Nosepiece
0000000
00000
B
3.0
1.75X (175%)
Scratch Resistant, Glare Resistant, Blue-Light Filtering
Clear
Solid Black
5

1/2

"
100.0%
Spring-Hinged Arms, Padded Nosepiece
0000000
00000
B
4.0
2X (200%)
Scratch Resistant, Glare Resistant, Blue-Light Filtering
Clear
Solid Black
5

1/2

"
100.0%
Spring-Hinged Arms, Padded Nosepiece
0000000
00000
B
5.0
2.25X (225%)
Scratch Resistant, Glare Resistant, Blue-Light Filtering
Clear
Solid Black
5

1/2

"
100.0%
Spring-Hinged Arms, Padded Nosepiece
0000000
00000
B
6.0
2.5X (250%)
Scratch Resistant, Glare Resistant, Blue-Light Filtering
Clear
Solid Black
5

1/2

"
100.0%
Spring-Hinged Arms, Padded Nosepiece
0000000
00000
B
8.0
3X (300%)
Scratch Resistant, Glare Resistant, Blue-Light Filtering
Clear
Solid Black
5

1/2

"
100.0%
Spring-Hinged Arms, Padded Nosepiece
0000000
00000