Spring Clamp Workholders
Secure small parts in spring clamps to keep hands free for soldering, gluing, and assembly. The workholder's arms are mounted to a base and adjust for positioning work at almost any angle.
Workholders that cannot be sold to Canada are restricted by local energy efficiency requirements.
Spring Clamps with Flexible Arm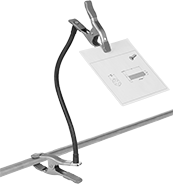 Shown with
Clamp-On
Mount

Attached to an arm you can flex into position, these clamps hold objects such as a flashlight, tool, or instructions. Squeeze the handles to open the clamp; release and the spring holds it tightly in place.
For technical drawings and 3-D models, click on a part number.
Max.

Min.

Reach
Holding
Capacity

Wd.

Material
Overall


Lg.

Mount Type
Each

Steel Body

2"
0"
2

5/8

"
Not Rated
1"
Rubber
25"
Clamp On
00000000
000000