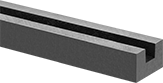 Magnetized Through Length
Alnico magnets aren't as strong as rare earth magnets, but they withstand the highest temperatures.
Warning: Maximum pull ratings are based on direct contact with rust-free and unpainted iron plate. Variations in material condition will significantly reduce these ratings. Do not use for lifting over people.
For technical drawings and 3-D models, click on a part number.
Thick.

Wd.

U-Channel




Wd.

Lg.

Max.




Pull,

lbs.

Max.




Temperature,

°F

Magnet
Grade
Each

5/16

"

1/2

"

3/16

"
5"
11
1020°
Alnico 5
0000000
000000

3/8

"

5/8

"

1/4

"
5"
16
1020°
Alnico 5
0000000
00000

1/2

"

3/4

"

1/4

"
6"
34
1020°
Alnico 5
0000000
00000

5/8

"
1"

3/8

"
6"
40
1020°
Alnico 5
0000000
000000

3/4

"
1

1/4

"

7/16

"
6"
60
1020°
Alnico 5
0000000
000000

7/8

"
1

1/2

"

1/2

"
6"
60
1020°
Alnico 5
0000000
000000