Fence Post Pullers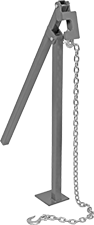 With a long handle for leverage, these pullers extract fence posts from the ground. The built-in jaw removes T-shaped posts. To remove construction stakes, posts that are bent or broken off close to the ground, and posts that are embedded in concrete, wrap the included chain around them.
For

Max.


Post

Wd.

Each
12"
0000000
0000000
Fence Post Drivers

Pound fence posts into the ground. The handles on these drivers are angled back to keep your hands at a safe distance.
For

Max.


Post

Wd.

Each
2

1/2

"
0000000
000000
Fence Posts


Secure and hold up fencing with these posts.
T-shaped posts include fasteners to attach fencing. Optional caps slip over the top for a smooth top edge. Caps are white plastic.
U-shaped posts have hooks running from the top to the anchor plate to secure fencing.
Ht.,




ft.

Wd.

Material
Color

Pkg.




Qty.

Pkg.

5
1

1/4

"
Enamel-Coated Steel
Green
5
0000000
000000
6
1

1/4

"
Enamel-Coated Steel
Green
5
0000000
00000
7
1

1/4

"
Enamel-Coated Steel
Green
5
0000000
00000
8
1

1/4

"
Enamel-Coated Steel
Green
5
0000000
00000
5
2"
Powder-Coated Steel
Green
5
0000000
00000
6
2"
Powder-Coated Steel
Green
5
0000000
00000
7
2"
Powder-Coated Steel
Green
5
0000000
00000