Clean Room Ball Bearing Carriages and Guide Rails

Standard Carriage

Flanged Carriage

Load Fastening from Top

Load Fastening from Bottom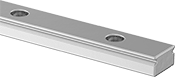 Guide Rail
Suitable for clean room use, these carriages and guide rails are made entirely of stainless steel. Ball bearings provide accurate movement and positioning at high speeds under heavy loads. Mount in any orientation without affecting load capacity. End seals keep lubricant in and dirt out.
Standard carriages are narrower than flanged carriages, making them better for confined spaces.
Flanged carriages have threaded mounting holes on the flanges rather than the carriage body, so you can fasten loads from both the top and bottom. When fastening from the bottom, use the mounting hole as a through-hole.
Add mounting hole plugs to protect mounting fasteners from corrosion.
For made-to-order guide rails, please specify the length of the rail (in 1 mm increments). The mounting holes will be centered along the rail.
For technical drawings and 3-D models, click on a part number.
Standard Carriages and Guide Rails

440 Stainless Steel Carriages



440 Stainless Steel Guide Rails



Made-to-Order


440 Stainless
Steel Guide Rails

For Rail


Wd.,


mm
Dynamic
Load


Cap.,

lbs.

O'all




Ht.,


mm
Carriage


Wd.,


mm
Carriage


Lg.,


mm
Environmental
Rating
Each
Rail


Lengths,


mm
Per
mm
Rail


Lengths,


mm
Per
mm
Each

Load Fastening From Top

5
120
6
12
16
Fed. Std. Class 1,000; ISO Class 6
00000000
0000000
0000000
00000
30-195
0000000
00000
000000
00
5
150
6
12
19
Fed. Std. Class 1,000; ISO Class 6
000000
000000
0000000
000
30-195
0000000
000
000000
00
7
210
8
17
19
Fed. Std. Class 1,000; ISO Class 6
00000000
00000
0000000
000
30-285
0000000
000
000000
00
7
290
8
17
23.5
Fed. Std. Class 1,000; ISO Class 6
000000
000000
0000000
000
30-285
0000000
000
000000
00
7
380
8
17
31
Fed. Std. Class 1,000; ISO Class 6
00000000
000000
0000000
000
30-285
0000000
000
000000
00
9
260
10
20
21.5
Fed. Std. Class 1,000; ISO Class 6
00000000
000000
0000000
000
40-840
0000000
000
00000000
00000
9
400
10
20
30
Fed. Std. Class 1,000; ISO Class 6
000000
000000
0000000
000
40-840
0000000
000
00000000
0000
9
530
10
20
40.5
Fed. Std. Class 1,000; ISO Class 6
00000000
000000
0000000
000
40-840
0000000
000
00000000
0000
12
490
13
27
25
Fed. Std. Class 1,000; ISO Class 6
00000000
000000
0000000
000
50-975
0000000
000
00000000
0000
12
740
13
27
34
Fed. Std. Class 1,000; ISO Class 6
000000
000000
0000000
000
50-975
0000000
000
00000000
0000
12
960
13
27
44
Fed. Std. Class 1,000; ISO Class 6
00000000
000000
0000000
000
50-975
0000000
000
00000000
0000
15
780
16
32
32
Fed. Std. Class 1,000; ISO Class 6
0000000
000000
0000000
000
80-960
0000000
000
00000000
0000
15
1,100
16
32
42
Fed. Std. Class 1,000; ISO Class 6
000000
000000
0000000
000
80-960
0000000
000
00000000
0000
15
1,450
16
32
57
Fed. Std. Class 1,000; ISO Class 6
00000000
000000
0000000
000
80-960
0000000
000
00000000
0000
20
1,000
20
40
38
Fed. Std. Class 1,000; ISO Class 6
00000000
000000
0000000
000
120-900
0000000
000
00000000
0000
20
1,450
20
40
50
Fed. Std. Class 1,000; ISO Class 6
000000
000000
0000000
000
120-900
0000000
000
00000000
0000
20
1,900
20
40
68
Fed. Std. Class 1,000; ISO Class 6
00000000
000000
0000000
000
120-900
0000000
000
00000000
0000
Flanged Carriages and Guide Rails

440 Stainless Steel Carriages


440 Stainless Steel Guide Rails


For Rail


Wd.,


mm
Dynamic
Load


Cap.,

lbs.

O'all




Ht.,


mm
Carriage


Wd.,


mm
Carriage


Lg.,


mm
Environmental
Rating
Each
Rail


Lengths,


mm
Per
mm
Each

Load Fastening From Top and From Bottom

15
3,150
24
47
64
Fed. Std. Class 10,000; ISO Class 7
00000000
0000000
0000000
00000
000000
00000
20
5,000
30
63
79
Fed. Std. Class 10,000; ISO Class 7
00000000
000000
0000000
000
000000
0000
23
7,100
36
70
92
Fed. Std. Class 10,000; ISO Class 7
00000000
000000
0000000
000
000000
0000