Corrosion-Resistant

Track Rollers and Guide Rails

Track Roller

Standard Shoulder

Adjustable Shoulder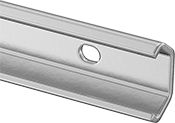 Guide Rail
Made of stainless steel, these track rollers and guide rails are more corrosion resistant than steel rollers and rails. Mount along a wall or other vertical surface.
Rollers with a standard shoulder, also known as concentric rollers, thread directly into a component or insert into mounting hole and fasten with a nut.
Rollers with an adjustable shoulder, also known as eccentric rollers, let you move the roller up and down to align with the track. They're often used alongside rollers with a standard shoulder to correct misalignment.
For technical drawings and 3-D models, click on a part number.
440 Stainless Steel Track Rollers

316 Stainless Steel Guide Rails

For
Rail


Wd.

Dynamic
Load


Cap.,

lbs.

Roller


Dia.

Roller


Wd.

Hex


Wd.

Shoulder


Lg.

Ht.


Adjustment
Capability
Stud


Dia.,


mm
Stud


Lg.

Thread
Size

Thread


Pitch,


mm
Thread


Lg.

Max.




Temp.,




°F

Each
Rail


Lengths,




ft.

Per


Ft.

Standard Shoulder

0.76"
30
0.55"
0.16"
0.31"
0.19"
__
4
0.79"
M4

0.7
0.5"
210°
00000000
000000
00000000
000000
1.16"
85
0.9"
0.28"
0.51"
0.27"
__
5
0.79"
M5

0.8
0.5"
210°
00000000
00000
00000000
00000
1.83"
175
1.4"
0.43"
0.59"
0.37"
__
6
0.79"
M6

1
0.5"
210°
00000000
00000
00000000
00000

Adjustable Shoulder

0.76"
30
0.55"
0.16"
0.31"
0.19"
0.016"
4
0.79"
M4

0.7
0.5"
210°
00000000
00000
00000000
00000
1.16"
85
0.9"
0.28"
0.51"
0.27"
0.024"
5
0.5"
M5

0.8
0.5"
210°
00000000
00000
00000000
00000
1.83"
175
1.4"
0.43"
0.59"
0.37"
0.031"
6
0.79"
M6

1
0.5"
210°
00000000
00000
00000000
00000