Sleeve Bearing Carriages for
T-Slotted

Framing
Mate with a T-slotted rail to add linear motion to your assembly. Carriages are suitable for washdown environments. Note: Carriages cannot be used upside down, vertically, or on their side.
T-slotted rails can be easily cut to length and drilled for mounting.
View additional T-slot hardware and accessories.
Hand brakes mount on the carriages to hold them in place on the rail. Carriages have mounting holes for the brakes.
End caps mount on the rails to prevent overtravel.
T-slot fasteners (sold separately) let you mount components to the carriages.
For technical drawings and 3-D models, click on a part number.
Carriages, Hand Brakes, and T-Slot Fasteners

Carriage for Single Rail

Carriage for Double Rail

T-Slotted Rails and End Caps
Single Rail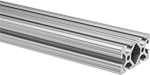 Double Rail