Removable Drill Bushings for Thin Metal
Unlike most bushings, these won't buckle the material or distort the hole when installed in thin-gauge aluminum and steel plates. Insert them into a drilled hole and twist the lock ring to secure. Reusable and easy to replace, they are held in place by a lock ring (sold separately).
For technical drawings and 3-D models, click on a part number.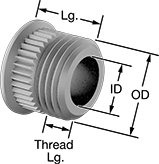 ID
OD

Lg.

For
Drill
Bit Size
ID
OD
For
Material


Thick.

Size

Lg.

Direction
Material
Hardness
Each
0.0625"

3/8

"

1/2

"

1/16

"
0.0001" to 0.0015"
0.003" to 0.005"

1/64

"-

3/8

"

3/8

"-24

1/4

"
Left Hand

1144 Carbon Steel
Rockwell C59
0000000
000000
0.0938"

3/8

"

1/2

"

3/32

"
0.0001" to 0.0015"
0.003" to 0.005"

1/64

"-

3/8

"

3/8

"-24

1/4

"
Left Hand

1144 Carbon Steel
Rockwell C59
0000000
00000
0.125"

3/8

"

1/2

"

1/8

"
0.0001" to 0.0015"
0.003" to 0.005"

1/64

"-

3/8

"

3/8

"-24

1/4

"
Left Hand

1144 Carbon Steel
Rockwell C59
0000000
00000
0.1285"

3/8

"

1/2

"
No. 30
0.0001" to 0.0015"
0.003" to 0.005"

1/64

"-

3/8

"

3/8

"-24

1/4

"
Left Hand

1144 Carbon Steel
Rockwell C59
0000000
00000
0.1406"

3/8

"

1/2

"

9/64

"
0.0001" to 0.0015"
0.003" to 0.005"

1/64

"-

3/8

"

3/8

"-24

1/4

"
Left Hand

1144 Carbon Steel
Rockwell C59
0000000
00000
0.1563"

3/8

"

1/2

"

5/32

"
0.0001" to 0.0015"
0.003" to 0.005"

1/64

"-

3/8

"

3/8

"-24

1/4

"
Left Hand

1144 Carbon Steel
Rockwell C59
0000000
00000
0.1875"

3/8

"

1/2

"

3/16

"
0.0001" to 0.0015"
0.003" to 0.005"

1/64

"-

3/8

"

3/8

"-24

1/4

"
Left Hand

1144 Carbon Steel
Rockwell C59
0000000
00000
0.1935"

3/8

"

1/2

"
No. 10
0.0001" to 0.0015"
0.003" to 0.005"

1/64

"-

3/8

"

3/8

"-24

1/4

"
Left Hand

1144 Carbon Steel
Rockwell C59
0000000
00000
0.2188"

1/2

"

1/2

"

7/32

"
0.0001" to 0.0015"
0.003" to 0.005"

1/64

"-

3/8

"

1/2

"-20

1/4

"
Left Hand

1144 Carbon Steel
Rockwell C59
0000000
00000
0.25"

1/2

"

1/2

"

1/4

", E
0.0001" to 0.0015"
0.003" to 0.005"

1/64

"-

3/8

"

1/2

"-20

1/4

"
Left Hand

1144 Carbon Steel
Rockwell C59
0000000
00000
0.2656"

1/2

"

1/2

"

17/64

"
0.0001" to 0.0015"
0.003" to 0.005"

1/64

"-

3/8

"

1/2

"-20

1/4

"
Left Hand

1144 Carbon Steel
Rockwell C59
0000000
00000
0.2813"

1/2

"

1/2

"

9/32

"
0.0001" to 0.0015"
0.003" to 0.005"

1/64

"-

3/8

"

1/2

"-20

1/4

"
Left Hand

1144 Carbon Steel
Rockwell C59
0000000
00000
0.3125"

1/2

"

1/2

"

5/16

"
0.0001" to 0.0015"
0.003" to 0.005"

1/64

"-

3/8

"

1/2

"-20

1/4

"
Left Hand

1144 Carbon Steel
Rockwell C59
0000000
00000
0.375"

5/8

"

1/2

"

3/8

"
0.0001" to 0.0015"
0.003" to 0.005"

1/64

"-

3/8

"

5/8

"-18

1/4

"
Left Hand

1144 Carbon Steel
Rockwell C59
0000000
00000