High-Speed

Dry-Running

Mounted Sleeve Bearings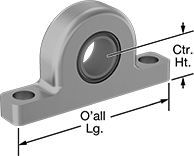 Made of acetal blended with PTFE, these bearings handle speeds twice as fast as standard sleeve bearings. They're dry running, meaning they don't require lubrication. These bearings swivel to compensate for small amounts of shaft misalignment.
For technical drawings and 3-D models, click on a part number.
For
Shaft
Diameter
Center
Height
Height
Length
Width
Bearing
Width
Hole
Diameter
Hole


Center-to-Center

Dynamic
Radial
Load Capacity
Temperature


Range,




°F

Alignment
Style
Each

Acetal Plastic Bearings with Aluminum Housing

1/4

"

3/8

"

3/4

"
1

7/16

"

3/8

"

3/8

"

13/64

"
1

1/8

"
80 lbs. @ 120 rpm
-40° to 180°
Self Aligning
0000000
000000

1/4

"

9/16

"
1

1/8

"
2

1/4

"

3/8

"

3/8

"

9/32

"
1

3/4

"
80 lbs. @ 120 rpm
-40° to 180°
Self Aligning
0000000
00000

5/16

"

9/16

"
1

1/8

"
2

1/4

"

7/16

"

7/16

"

9/32

"
1

3/4

"
95 lbs. @ 120 rpm
-40° to 180°
Self Aligning
0000000
00000

3/8

"

9/16

"
1

1/8

"
2

1/4

"

7/16

"

7/16

"

9/32

"
1

3/4

"
95 lbs. @ 120 rpm
-40° to 180°
Self Aligning
0000000
00000

1/2

"

9/16

"
1

1/8

"
2

1/4

"

5/8

"

5/8

"

9/32

"
1

3/4

"
135 lbs. @ 120 rpm
-40° to 180°
Self Aligning
0000000
00000

1/2

"

3/4

"
1

9/16

"
3

1/4

"

5/8

"

5/8

"

11/32

"
2

1/2

"
135 lbs. @ 120 rpm
-40° to 180°
Self Aligning
0000000
00000

5/8

"

3/4

"
1

9/16

"
3

1/4

"
0.78"
0.78"

11/32

"
2

1/2

"
340 lbs. @ 60 rpm
-40° to 180°
Self Aligning
0000000
00000

3/4

"

3/4

"
1

9/16

"
3

1/4

"
0.85"
0.85"

11/32

"
2

1/2

"
370 lbs. @ 60 rpm
-40° to 180°
Self Aligning
0000000
00000

3/4

"
1"
1

15/16

"
4"
0.85"
0.85"

11/32

"
3

1/8

"
370 lbs. @ 60 rpm
-40° to 180°
Self Aligning
0000000
00000
1"
1

1/4

"
2

9/16

"
5"
0.9"
0.9"

9/16

"
4"
400 lbs. @ 60 rpm
-40° to 180°
Self Aligning
0000000
00000
6mm
9.5mm
19.1mm
36.5mm
9.7mm
9.7mm
5.2mm
28.6mm
80 lbs. @ 120 rpm
-40° to 180°
Self Aligning
0000000
00000
8mm
14.3mm
28.7mm
57.2mm
11.2mm
11.2mm
7.1mm
44.5mm
95 lbs. @ 120 rpm
-40° to 180°
Self Aligning
0000000
00000
10mm
14.3mm
28.7mm
57.2mm
11.2mm
11.2mm
7.1mm
44.5mm
95 lbs. @ 120 rpm
-40° to 180°
Self Aligning
0000000
00000
12mm
14.3mm
28.7mm
57.2mm
16mm
16mm
7.1mm
44.5mm
140 lbs. @ 120 rpm
-40° to 180°
Self Aligning
0000000
00000
16mm
19.1mm
39.6mm
82.6mm
19.8mm
19.8mm
8.7mm
63.5mm
340 lbs. @ 60 rpm
-40° to 180°
Self Aligning
0000000
00000