Selecting Compatible Lead Screws and Nuts
Self-Stopping

Ball Screws and Nuts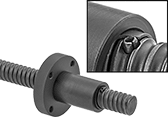 Stop Pin Shown Installed
Keep your ball screw spinning without the ball nut damaging your system—a clutch-like collar inside the ball nut prevents it from travelling past the stop pins. Install the included stop pins anywhere along the length of the ball screw by drilling a hole in the valley of the threads (also known as the root) and pressing in the stop pin. When the collar meets the stop pin, the ball nut disengages from the threads and begins to idle. To start the ball nut travelling again, spin the ball screw in the opposite direction. All components are black-oxide steel and have mild corrosion resistance. To ensure compatibility, select components that have the same thread size. Ball nuts are furnished with a tube to keep ball bearings in place. Do not remove the tube until you are ready to install the nuts onto the screws.
Travel distance per turn, also known as screw lead, is the distance a ball nut moves with one revolution of the ball screw.
For technical drawings and 3-D models, click on a part number.
Ball Screws—Right-Hand Threaded


Root diameter indicates the diameter the ball screw will be after machining away the threads.
Thread
Size

Lg.,




ft.

No.

of Thread
Starts
Travel Distance
per Turn
Root


Dia.

Hardness
Tensile


Strength,

psi

Temperature


Range,

°F

No.

of
Pins
Included
Each

5/8

"-6

1
2
0.188"
0.562"
Rockwell C56
95,000
-65° to 300°
2
0000000
0000000

5/8

"-6

2
2
0.188"
0.562"
Rockwell C56
95,000
-65° to 300°
2
0000000
000000

5/8

"-6

3
2
0.188"
0.562"
Rockwell C56
95,000
-65° to 300°
2
0000000
000000
1"-4

2
2
0.274"
0.84"
Rockwell C56
95,000
-65° to 300°
2
0000000
000000
1"-4

3
2
0.274"
0.84"
Rockwell C56
95,000
-65° to 300°
2
0000000
000000
1"-4

4
2
0.274"
0.84"
Rockwell C56
95,000
-65° to 300°
2
0000000
000000
Externally Threaded Ball Nuts—Right-Hand Threaded

Thread
Size

Lg.

Dia.

No.

of
Thread
Starts
Travel
Distance
per Turn
External
Thread
Size

Hardness
Dynamic
Thrust
Load

Cap.,

lbs.

Max.


Backlash
Temperature


Range,




°F

Each

5/8

"-6

1

7/8

"
1"
2
0.188"

15/16

"-16

Rockwell C56
300
0.006"
-65° to 300°
0000000
000000
1"-4

2

23/32

"
1

5/8

"
2
0.274"
1.563"-18

Rockwell C56
900
0.008"
-65° to 300°
0000000
000000
Flange Ball Nuts—Right-Hand Threaded


Thread
Size

Lg.

Dia.

Dia.

Thick.

No.

of
Thread
Starts
Travel
Distance
per Turn
Bolt
Circle


Dia.

Hardness
Dynamic
Thrust
Load

Cap.,

lbs.

Max.


Backlash
Temperature


Range,




°F

Each

5/8

"-6

1

7/8

"
1"
2"

13/32

"
2
0.188"
1

5/8

"
Rockwell C56
300
0.006"
-65° to 300°
0000000
0000000
1"-4

2

23/32

"
1

5/8

"
3

15/64

"

5/8

"
2
0.274"
2

3/4

"
Rockwell C56
900
0.008"
-65° to 300°
0000000
000000