Precision Positioning Slides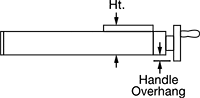 A linear scale and micrometer-like hand wheel measure travel distance in increments of 0.001". Rulon sleeve bearings allow these slides to move smoothly, even in dirty environments. Use them in a variety of manual-positioning applications for laboratory and production equipment as well as for positioning parts for drilling, fastening, assembly, and measuring.
Travel distance per turn, also known as screw lead, is the distance the carriage moves with one revolution of the handle.
Note: Capacities listed are for horizontal mounting. When mounted vertically, the load capacity is cut in half.
For technical drawings and 3-D models, click on a part number.
Travel


Lg.

Travel
Distance
per Turn
Accuracy for
Travel
Distance per Turn

Ht.

Wd.

Lg.

Wd.

Lg.

Type

Dia.

Overhang
Linear Scale
Graduation
Marks

Max.




Temp.,




°F

No.


of
Holes
Hole
Thread
Size

No.


of
Holes
For
Fastener
Thread Size

Mounting
Fasteners
Included
Each

Aluminum Carriage and Base

100

lbs.

Static Load Capacity

11"
0.1"
0.00015" per in.
1.06"
4"
18.41"
2.35"
4"
Hand Wheel
1.75"
0.24"
0.025"
180°
4
10-32

5

1/4

"-20

No
0000000
000000000
Rodless Air Slides
With no external moving parts, these air slides provide a long stroke, but have a static footprint—only the carriage on top moves. They have a magnetic piston so you can use them with sensors (not included) to activate relays and controllers.
Sensor-Ready Low-Profile slides have a shorter height than standard slides to fit in tight locations. Barrel is aluminum and end caps and carriage are plastic.
For technical drawings and 3-D models, click on a part number.