High-Speed

Oil-Embedded

Mounted Sleeve Bearings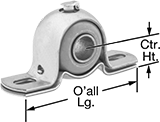 With Oil Cup
A strong steel housing allows these bearings to handle higher speeds than standard oil-embedded mounted sleeve bearings. Startup friction causes the bearing to release a thin layer of oil on the bearing's surface.
Bearings with an oil cup have a reservoir that distributes additional oil onto the bearing. A self-closing hinged cover keeps out contaminants.
Note: Dynamic load capacity is the maximum load a bearing can withstand at a given shaft speed. If your application's load and speed requirements are below the values listed, the bearing will work.
For technical drawings and 3-D models, click on a part number.
For
Shaft


Dia.

Center


Ht.

Ht.

Lg.

Wd.

Bearing


Wd.

Hole


Lg.

Hole


Wd.

Hole


Ctr.-to-Ctr.

Dynamic
Radial
Load

Cap.

Temp.




Range,




°F

Alignment
Style
Lubrication
Each

841 Bearing Bronze Bearings with Steel Housing

With Oil Cup

1

3/8

"
1

11/32

"
2

7/8

"
5

7/16

"
1

3/4

"
1

3/4

"

25/32

"

25/64

"
3

7/8

"
4,800 lbs. @ 30 rpm
-40° to 240°
Self Aligning
Lubricated
0000000
000000
1

1/2

"
1

11/32

"
2

7/8

"
5

7/16

"
1

3/4

"
1

3/4

"

25/32

"

25/64

"
3

7/8

"
5,250 lbs. @ 30 rpm
-40° to 240°
Self Aligning
Lubricated
0000000
00000