About
Copper,

Brass,

and Bronze
Oil-Filled

840 and 841 Bearing Bronze Sheets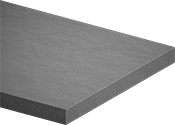 Yield

Strength:


840 Bearing

Bronze:

7,

000 psi
841 Bearing

Bronze:

11,

000 psi

Hardness:

Not Rated

Temper:

Not Rated

Heat

Treatable:

No
Specifications

Met:

ASTM B438
Powdered bronze is pressed and then impregnated with SAE 30 oil to make this material self-lubricating. Use it to make bearings and parts for hard-to-reach areas that would be difficult to access for lubrication, such as well pumps and turbine blades.
For technical drawings and 3-D models, click on a part number.

Certificates with a traceable lot number are available for these products. Download certificates from ORDER HISTORY after your order ships.
Thick.

Thick.

Tolerance
Range
Material
Each

1/8

"
-0.01" to 0.01"
841 Bearing Bronze
0000000
0000000

3/16

"
-0.01" to 0.01"
841 Bearing Bronze
0000000
000000

1/4

"
-0.01" to 0.01"
841 Bearing Bronze
0000000
000000

1/2

"
-0.01" to 0.01"
841 Bearing Bronze
0000000
000000

3/4

"
-0.01" to 0.01"
841 Bearing Bronze
0000000
000000
1"
-0.01" to 0.01"
841 Bearing Bronze
0000000
000000