Linear and Rotary Ball Bearings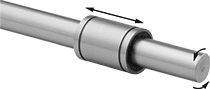 With End Seals

Without End Seals
Engineered for simultaneous linear and rotary motion, these bearings are used with round end-supported shafts. The fixed-alignment design is for use where shaft misalignment is unlikely. To install, slide bearings into a housing (not included) and secure with two retaining rings (sold individually).
Bearings with end seals are designed to keep lubricant in and dirt out.
Bearings without a maximum stroke length are only limited by the length of shaft they're used on.
For technical drawings and 3-D models, click on a part number.
For
Shaft


Dia.

Overall


Lg.

For
Housing
ID
Retaining
Ring Groove


End-to-End

Lg.

Dynamic
Load


Capacity,

lbs.

Dynamic
Rotary
Load Capacity

Max.




Speed,


rpm

Max.




Temperature,




° F

Max.


Stroke


Lg.

For
Shaft
Material
Each

Pkg.




Qty.

Each

Fixed Alignment

Steel Bearings with End Seals

3/8

"

7/8

"
0.6250" - 0.6255"
0.64"
70
29 lbs. @ 500 rpm
3,600
200°
__
Stainless Steel, Steel
0000000
000000
__
0000000
00000

1/2

"
1

1/4

"
0.8750" - 0.8755"
0.967"
185
76 lbs. @ 500 rpm
3,600
200°
__
Stainless Steel, Steel
0000000
00000
__
0000000
000

5/8

"
1

1/2

"
1.1250" - 1.1255"
1.112"
280
116 lbs. @ 500 rpm
3,600
200°
__
Stainless Steel, Steel
0000000
00000
__
0000000
0000

3/4

"
1

5/8

"
1.2500" - 1.2505"
1.174"
325
133 lbs. @ 500 rpm
3,600
200°
__
Stainless Steel, Steel
0000000
00000
__
0000000
0000
1"
2

1/4

"
1.5625" - 1.5630"
1.761"
450
185 lbs. @ 500 rpm
3,600
200°
__
Stainless Steel, Steel
0000000
000000
__
0000000
0000
1

1/4

"
2

5/8

"
2.0000" - 2.0010"
2.011"
600
246 lbs. @ 500 rpm
3,600
200°
__
Stainless Steel, Steel
0000000
000000
__
0000000
0000
1

1/2

"
3"
2.3750" - 2.3760"
2.422"
935
383 lbs. @ 500 rpm
3,600
200°
__
Stainless Steel, Steel
0000000
000000
__
0000000
0000
Each

Pkg.

2"
4"
3.0000" - 3.0010"
3.206"
1,300
549 lbs. @ 500 rpm
3,600
200°
__
Stainless Steel, Steel
000000
000000
1
0000000
00000
8mm
24mm
15.0000mm - 15.0180mm
15.3mm
75
31 lbs. @ 500 rpm
5,000
200°
14mm
Stainless Steel, Steel
0000000
00000
1
0000000
000
10mm
30mm
19.0000mm - 19.0210mm
18.5mm
140
59 lbs. @ 500 rpm
5,000
200°
16mm
Stainless Steel, Steel
0000000
00000
1
0000000
000
12mm
32mm
23.0000mm - 23.0210mm
20.1mm
240
99 lbs. @ 500 rpm
5,000
200°
18mm
Stainless Steel, Steel
0000000
00000
1
0000000
000
16mm
37mm
28.0000mm - 28.0210mm
24.1mm
265
110 lbs. @ 500 rpm
5,000
200°
26mm
Stainless Steel, Steel
0000000
00000
1
0000000
000
20mm
45mm
32.0000mm - 32.0250mm
30.8mm
280
117 lbs. @ 500 rpm
5,000
200°
36mm
Stainless Steel, Steel
0000000
00000
1
0000000
0000
30mm
65mm
45.0000mm - 45.0250mm
50.1mm
670
278 lbs. @ 500 rpm
5,000
200°
68mm
Stainless Steel, Steel
0000000
00000
1
0000000
0000
40mm
80mm
60.0000mm - 60.0300mm
64.9mm
925
384 lbs. @ 500 rpm
5,000
200°
91mm
Stainless Steel, Steel
000000
00000
1
0000000
0000
Each
Each

Steel Bearings without End Seals

2

1/2

"
5"
3.7500" - 3.7510"
3.99"
1,800
750 lbs. @ 500 rpm
2,400
200°
__
Stainless Steel, Steel
0000000
000000
__
0000000
00000