Adjustable Stroke Length Air Slides
Modify the stroke length on these air slides to meet changing application requirements—slides have adjustable shaft collars on the guide rods that you can move to fine-tune the stroke length. Convenient for use with devices such as grippers and printing heads, these air slides have a nonrotating head that provides steady motion and a large mounting area. Air slides have two guide rods parallel to the piston that keep the head from twisting as it extends and retracts. They have a magnetic piston so you can use them with sensors (sold separately) to activate relays and controllers.
For technical drawings and 3-D models, click on a part number.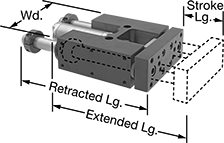 Stroke
Retracted
Extended
Force
@ 100


psi,

lbs.

Carriage
Material
Pipe
Size

Thread
Type
Gender
Dynamic
Horizontal
Load

Capacity,

lbs.

Each

3/4"

Bore Size

(4.06" Wd.)

1"
6.68"
6.78"
44
Aluminum

1/8

NPT

Female
14
00000000
0000000
2"
7.68"
8.78"
44
Aluminum

1/8

NPT

Female
14
00000000
000000
3"
8.68"
10.78"
44
Aluminum

1/8

NPT

Female
14
00000000
000000
4"
9.68"
12.78"
44
Aluminum

1/8

NPT

Female
14
00000000
000000
5"
10.68"
14.78"
44
Aluminum

1/8

NPT

Female
14
00000000
000000
6"
11.68"
16.78"
44
Aluminum

1/8

NPT

Female
14
00000000
000000
7"
12.68"
18.78"
44
Aluminum

1/8

NPT

Female
14
00000000
000000
8"
13.68"
20.78"
44
Aluminum

1/8

NPT

Female
14
00000000
000000
9"
14.68"
22.78"
44
Aluminum

1/8

NPT

Female
14
00000000
000000
10"
15.68"
24.78"
44
Aluminum

1/8

NPT

Female
14
00000000
000000
11"
16.68"
26.78"
44
Aluminum

1/8

NPT

Female
14
00000000
000000
12"
17.68"
28.78"
44
Aluminum

1/8

NPT

Female
14
00000000
000000
5-120V AC/DC Reed Sensor with LED