Disposable Boot Covers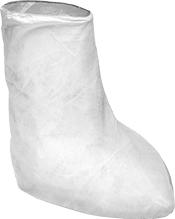 Polypropylene,
Polyethylene,
Tyvek,
and Kleenguard
These lightweight covers protect boots from dirt and grime.
Polyethylene is made of FDA listed materials, so it's often used in food preparation. It resists light liquid splashes.
For

Men's


Shoe Size
For

Women's


Shoe Size
One Size
One Size
Ht.

Closure
Type
Color
Specifications Met

Men's


Shoe Size

Pkg.

Qty.

Pkg.

Polyethylene Plastic

16"
Elastic
Clear
FDA Compliant 21 CFR 110.10, FDA Compliant 21 CFR 177.1950
One Size
25 Pairs
000000
000000
Disposable Plastic Film Shoe and Boot Covers
Step into the dispenser and this plastic film clings to the bottom of your shoes and boots, so you don't track dirt into your home or worksite. As you pull your foot out, cut the film from its roll on the serrated blade like you would with regular plastic wrap—you never touch any part with your hands, or even bend down. For moving the dispenser safely, the blade is retractable. These plastic film covers are durable enough that they won't tear easily when you walk, but thin enough to apply multiple layers if you need extra protection or to cover film that's dirty. Use them with any shoe size.
One roll of 1-mil. thick plastic film and one refillable plastic dispenser are included. When you run out of film, replace it with more of the same thickness or use 2-mil. thick film for extra strength and tear resistance.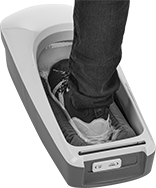 Shoe and Boot Cover
Thickness,


mil

Length,




ft.

Color
For

Men's


Shoe
Size
For


Women's


Shoe Size
Length
Width
Height
Material
Features
Each

Polyethylene Plastic

1
590
Clear
One Size
One Size
23"
9"
4

1/2

"
Plastic
Retractable Serrated Blade
0000000
0000000