Business Card Holders
Display your own business cards in trays or store other people's cards in rotary holders.
Tray holders with 4 or 8 compartments display the business cards of multiple people at once.
Plastic holders have good durability. Some are clear, so the entire card is visible.
Aluminum holders are more durable than plastic ones and have a more modern look.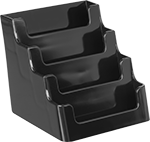 Tray
For

Max.

Number
of Cards
Number of
Compartments

Lg.

Wd.

Wd.

Ht.

Dp.

Color
Each

Plastic

50
1
2"
3

1/2

"
3

7/8

"
1

7/8

"
1

3/8

"
Black
00000000
00000
50
1
2"
3

1/2

"
3

7/8

"
1

7/8

"
1

3/8

"
Clear
00000000
0000
200
4
2"
3

1/2

"
4"
3

3/4

"
3

1/2

"
Black
00000000
0000
200
4
2"
3

1/2

"
4"
3

3/4

"
3

1/2

"
Clear
00000000
0000
400
8
2"
3

1/2

"
7

7/8

"
3

3/8

"
3

1/2

"
Black
00000000
00000
400
8
2"
3

1/2

"
7

7/8

"
3

3/8

"
3

1/2

"
Clear
00000000
00000

Aluminum

80
1
2"
3

1/2

"
4

1/2

"
2

1/2

"
2"
Black
00000000
00000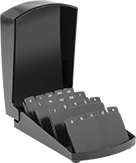 Tray with Cover
For

Max.

Number
of Cards

Lg.

Wd.

Wd.

Ht.

Dp.

Includes
Each
350
2"
3

1/2

"
4"
3"
5

3/4

"
Alphabetical Tabs
00000000
000000