Bright-Finish

Casters with Nylon Wheels

Rigid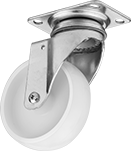 Swivel

Swivel with Total Lock

Zinc plating gives these casters a bright, clean finish. Wheels are impact- and wear-resistant nylon.
They work well on smooth surfaces.
The wheels ride directly on the axle rather than on bearings, making these casters an economical choice for equipment not frequently moved.
Swivel casters have completely sealed double-ball bearings for the smoothest swiveling and the best protection against dust and debris.
Casters with total lock brake the wheel and lock the swivel with one press of the foot pedal.
For technical drawings and 3-D models, click on a part number.
Dia.

Wd.

Mount


Ht.

Cap.

per


Caster,

lbs.

Wheel
Bearing Type
Frame Material
Each

Rigid

Nonmarking White Solid

Wheels—

Hard

3"
1

3/8

"
4

5/8

"
220
Without Bearing
Zinc-Plated Steel
00000000
000000
4"
1

3/8

"
5

1/2

"
220
Without Bearing
Zinc-Plated Steel
00000000
00000
5"
1

3/8

"
6

3/8

"
220
Without Bearing
Zinc-Plated Steel
00000000
00000

Swivel

Nonmarking White Solid

Wheels—

Hard

3"
1

3/8

"
4

5/8

"
220
Without Bearing
Zinc-Plated Steel
00000000
00000
4"
1

3/8

"
5

1/2

"
220
Without Bearing
Zinc-Plated Steel
00000000
00000
5"
1

3/8

"
6

3/8

"
220
Without Bearing
Zinc-Plated Steel
00000000
00000

Swivel with Total Lock

Nonmarking White Solid

Wheels—

Hard

3"
1

3/8

"
4

5/8

"
220
Without Bearing
Zinc-Plated Steel
00000000
00000
4"
1

3/8

"
5

1/2

"
220
Without Bearing
Zinc-Plated Steel
00000000
00000
5"
1

3/8

"
6

3/8

"
220
Without Bearing
Zinc-Plated Steel
00000000
00000