Bright-Finish

Casters with Rubber Wheels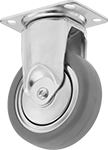 Rigid

Swivel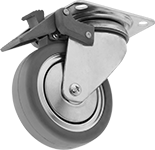 Swivel with Total Lock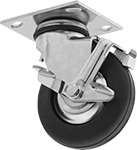 Swivel with Brake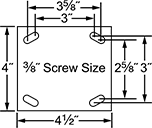 Chrome or zinc plating gives these casters a bright, clean finish. They have a soft, cushioning rubber tread for rolling on smooth and rough surfaces with a hard core for strength.
Ball bearings in the wheel provide easy rolling. They are shielded to resist dust and debris.
Chrome-plated frames provide some corrosion resistance.
Neoprene rubber wheels are oil resistant.
Swivel casters have completely sealed double-ball bearings for the smoothest swiveling and the best protection against dust and debris. Casters with wheel brake apply pressure to the wheel to stop movement with a press of the foot pedal. Casters with total lock brake the wheel and lock the swivel with one press of the foot pedal.
For technical drawings and 3-D models, click on a part number.
Dia.

Wd.

Mount


Ht.

Cap.

per


Caster,

lbs.

Hardness
Frame Material
Each

Rigid

Nonmarking Gray

Tread-on-Core

Wheels—

Soft Rubber

3"
1

1/4

"
4

1/2

"
220
Durometer 80A
Zinc-Plated Steel
00000000
000000
4"
1

1/4

"
5

1/4

"
220
Durometer 80A
Zinc-Plated Steel
00000000
00000
5"
1

1/4

"
6

1/2

"
220
Durometer 80A
Zinc-Plated Steel
00000000
00000

Black

Tread-on-Core

Wheels—

Soft Neoprene Rubber

4"
1

3/8

"
5

9/16

"
250
Durometer 60A
Chrome-Plated Steel
00000000
00000
5"
1

3/8

"
6

5/8

"
270
Durometer 60A
Chrome-Plated Steel
00000000
00000
6"
1

5/8

"
7

9/16

"
300
Durometer 60A
Chrome-Plated Steel
00000000
00000

Swivel

Nonmarking Gray

Tread-on-Core

Wheels—

Soft Rubber

3"
1

1/4

"
4

1/2

"
220
Durometer 80A
Zinc-Plated Steel
00000000
00000
4"
1

1/4

"
5

1/4

"
220
Durometer 80A
Zinc-Plated Steel
00000000
00000
5"
1

1/4

"
6

1/2

"
220
Durometer 80A
Zinc-Plated Steel
00000000
00000

Black

Tread-on-Core

Wheels—

Soft Neoprene Rubber

4"
1

3/8

"
5

9/16

"
250
Durometer 60A
Chrome-Plated Steel
00000000
00000
5"
1

3/8

"
6

5/8

"
270
Durometer 60A
Chrome-Plated Steel
00000000
00000
6"
1

5/8

"
7

9/16

"
300
Durometer 60A
Chrome-Plated Steel
00000000
00000

Swivel with Brake

Black

Tread-on-Core

Wheels—

Soft Neoprene Rubber

4"
1

3/8

"
5

9/16

"
250
Durometer 60A
Chrome-Plated Steel
00000000
00000
5"
1

3/8

"
6

5/8

"
270
Durometer 60A
Chrome-Plated Steel
00000000
00000
6"
1

5/8

"
7

9/16

"
300
Durometer 60A
Chrome-Plated Steel
00000000
000000

Swivel with Total Lock

Nonmarking Gray

Tread-on-Core

Wheels—

Soft Rubber

3"
1

1/4

"
4

1/2

"
220
Durometer 80A
Zinc-Plated Steel
00000000
00000
4"
1

1/4

"
5

1/4

"
220
Durometer 80A
Zinc-Plated Steel
00000000
00000
5"
1

1/4

"
6

1/2

"
220
Durometer 80A
Zinc-Plated Steel
00000000
00000