Cart-King

Casters with Polyurethane Wheels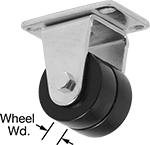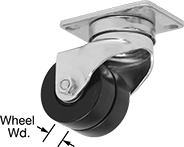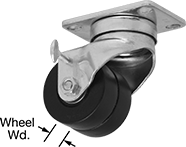 Dual-Wheel
Swivel with Brake

Rigid

Swivel

Swivel with Brake

Swivel with Total Lock
Our most popular casters for carts and dollies, these casters have abrasion-resistant polyurethane wheels. Use them on smooth or rough floors and in areas with debris.
Dual-wheel casters provide better load distribution and easier turning than single-wheel casters.
Tread-on-core wheels have a polypropylene core that is harder than the tread, balancing strength with cushioning.
Soft and firm wheels are shock absorbing. Hard wheels are impact resistant.
Casters without wheel bearings have a wheel that rides directly on the axle, making them an economical choice for equipment not frequently moved. Ball bearings are the easiest to roll.
Swivel casters have double-ball bearings for the smoothest swiveling. Shielded bearings protect the bearing from dust and debris.
Casters with wheel brake apply pressure to the wheel to stop movement. Casters with total lock brake the wheel and lock the swivel with one press of the foot pedal.
For technical drawings and 3-D models, click on a part number.