Corrosion-Resistant

Casters with Rubber Wheels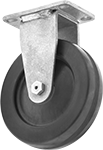 Rigid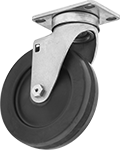 Swivel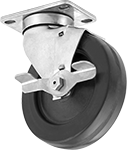 Swivel with Left Side Brake

Swivel with Wraparound Brake


With a 304 stainless steel frame for good corrosion resistance, these casters are an economical alternative to our 316 stainless steel washdown casters.
Hard rubber wheels are impact resistant and roll easily on smooth surfaces, but can be damaging to floors. Soft neoprene rubber wheels are shock absorbing and oil resistant. Use them on smooth or rough surfaces.
Sleeve wheel bearings prevent wear to the wheel bore. Ball bearings are the easiest to roll.
Swivel casters have shielded double-ball bearings for the smoothest swiveling and protection from dust and debris.
Casters with wheel brake apply pressure to the wheel to stop movement with a press of the foot pedal. Wraparound brake is easier to engage than the face brake and has a rubber brake pad for a strong grip.
For technical drawings and 3-D models, click on a part number.
Dia.

Wd.

Mount


Ht.

Cap.

per


Caster,

lbs.

Hardness
Type
Material
Each

Rigid

Black Solid Neoprene Rubber

Wheels—

Soft

2

1/2

"
1

1/4

"
3

3/4

"
200
Durometer 80A
Sleeve
Acetal Plastic
00000000
000000
3"
1

1/4

"
4

5/16

"
200
Durometer 80A
Sleeve
Acetal Plastic
00000000
00000
4"
1

1/4

"
5

1/4

"
200
Durometer 80A
Sleeve
Acetal Plastic
00000000
00000
5"
1

1/4

"
6

1/4

"
200
Durometer 80A
Sleeve
Acetal Plastic
00000000
00000
6"
1

1/4

"
7

3/8

"
200
Durometer 80A
Sleeve
Acetal Plastic
00000000
00000

Black Solid Neoprene Rubber

Wheels—

Soft

3"

15/16

"
4

1/8

"
110
Durometer 60A
Sleeve
Acetal Plastic
0000000
00000
4"

15/16

"
5

1/8

"
110
Durometer 60A
Sleeve
Acetal Plastic
0000000
00000
5"

15/16

"
6

1/8

"
110
Durometer 60A
Sleeve
Acetal Plastic
0000000
00000

Black Solid Rubber

Wheels—

Hard

3"

7/8

"
4

1/8

"
160
Durometer 80D
Ball
Steel
0000000
00000
4"

7/8

"
5

1/8

"
160
Durometer 80D
Ball
Steel
0000000
00000
5"

7/8

"
6

1/8

"
160
Durometer 80D
Ball
Steel
0000000
00000

Swivel

Black Solid Neoprene Rubber

Wheels—

Soft

2

1/2

"
1

1/4

"
3

3/4

"
200
Durometer 80A
Sleeve
Acetal Plastic
0000000
00000
3"
1

1/4

"
4

5/16

"
200
Durometer 80A
Sleeve
Acetal Plastic
0000000
00000
4"
1

1/4

"
5

1/4

"
200
Durometer 80A
Sleeve
Acetal Plastic
0000000
00000
5"
1

1/4

"
6

1/4

"
200
Durometer 80A
Sleeve
Acetal Plastic
0000000
00000
6"
1

1/4

"
7

3/8

"
200
Durometer 80A
Sleeve
Acetal Plastic
0000000
00000

Black Solid Neoprene Rubber

Wheels—

Soft

3"

15/16

"
4

1/8

"
110
Durometer 60A
Sleeve
Acetal Plastic
0000000
00000
4"

15/16

"
5

1/8

"
110
Durometer 60A
Sleeve
Acetal Plastic
0000000
00000
5"

15/16

"
6

1/8

"
110
Durometer 60A
Sleeve
Acetal Plastic
0000000
00000

Black Solid Rubber

Wheels—

Hard

3"

7/8

"
4

1/8

"
160
Durometer 80D
Ball
Steel
0000000
00000
4"

7/8

"
5

1/8

"
160
Durometer 80D
Ball
Steel
0000000
00000
5"

7/8

"
6

1/8

"
160
Durometer 80D
Ball
Steel
0000000
00000

Swivel with Left Side Brake

Black Solid Neoprene Rubber

Wheels—

Soft

3"
1

1/4

"
4

5/16

"
200
Durometer 80A
Sleeve
Acetal Plastic
00000000
00000
4"
1

1/4

"
5

1/4

"
200
Durometer 80A
Sleeve
Acetal Plastic
00000000
00000
5"
1

1/4

"
6

1/4

"
200
Durometer 80A
Sleeve
Acetal Plastic
00000000
00000

Swivel with Wraparound Brake

Black Solid Neoprene Rubber

Wheels—

Soft

6"
1

1/4

"
7

3/8

"
200
Durometer 80A
Sleeve
Acetal Plastic
00000000
000000