Cross-Brace

Drum Dollies with Support Ring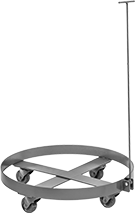 A

B
A ring around the outside of these dollies supports loads and prevents them from slipping off.
Style A include a removable T-handle for pulling.
Aluminum dollies are lightweight yet strong like steel.
304 stainless steel dollies are corrosion-resistant for use in harsh environments.
Use dollies with polypropylene wheels on smooth surfaces. Dollies with rubber wheels absorb shock to roll over smooth or rough surfaces. Dollies with steel wheels are rugged, but noisy and can damage floors. They work best on smooth surfaces.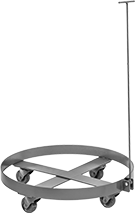 A

B
Style
For
Container


Cap.,

gal.

O'all




Cap.,




lbs.

ID

O'all




Ht.

Platform


Ht.

Lip


Ht.

Color
Gauge
Wheel
Configuration
Caster
Mount
Type

Dia.

Material
Type
Each
A
55
1,000
24"
5

7/8

"
3

7/8

"
2"
Gray
6
Four Swivel Casters
Permanent
3"
Rubber
Solid
0000000
0000000
B
30
700
19

1/4

"
5

1/4

"
3

3/4

"
2

1/2

"
Orange
11
Four Swivel Casters
Permanent
2

1/2

"
Rubber
Solid
000000
00000
B
30
900
19

1/4

"
5

1/4

"
3

3/4

"
2

1/2

"
Orange
11
Four Swivel Casters
Permanent
2

1/2

"
Steel
Solid
000000
000000
B
30
900
19

1/4

"
5

1/2

"
4"
2

1/2

"
Orange
11
Four Swivel Casters
Permanent
3"
Rubber
Solid
000000
000000
B
30
1,200
19

1/4

"
5

1/2

"
4"
2

1/2

"
Orange
11
Four Swivel Casters
Permanent
3"
Steel
Solid
000000
000000
B
55
700
23

1/4

"
5

1/4

"
3

3/4

"
2

1/2

"
Orange
11
Four Swivel Casters
Permanent
2

1/2

"
Rubber
Solid
000000
00000
B
55
900
23

1/4

"
5

1/4

"
3

3/4

"
2

1/2

"
Orange
11
Four Swivel Casters
Permanent
2

1/2

"
Steel
Solid
000000
000000
B
55
900
23

1/4

"
5

1/2

"
4"
2

1/2

"
Orange
11
Four Swivel Casters
Permanent
3"
Rubber
Solid
000000
00000
B
55
1,200
23

1/4

"
5

1/2

"
4"
2

1/2

"
Orange
11
Four Swivel Casters
Permanent
3"
Steel
Solid
000000
000000
B
85
900
29"
5

1/2

"
4"
2

1/2

"
Orange
11
Four Swivel Casters
Permanent
3"
Polypropylene Plastic
Solid
000000
000000

B
Style
For
Container


Cap.,

gal.

O'all




Cap.,




lbs.

ID

O'all




Ht.

Platform


Ht.

Lip


Ht.

Body
Gauge
Wheel
Configuration
Caster
Mount
Type

Dia.

Material
Type
Each
B
30
800
19"
6

1/8

"
4"
2

1/8

"
10
Four Swivel Casters
Permanent
3"
Rubber
Tread on Core
0000000
0000000
B
55
800
24"
6

1/8

"
4"
2

1/8

"
10
Four Swivel Casters
Permanent
3"
Rubber
Tread on Core
0000000
000000

B
Style
For
Container


Cap.,

gal.

O'all




Cap.,




lbs.

ID

O'all




Ht.

Platform


Ht.

Lip


Ht.

Body


Thick.

Wheel
Configuration
Caster
Mount
Type

Dia.

Material
Type
Each
B
55
900
24"
5

3/4

"
3

3/4

"
2"

1/4

"
Four Swivel Casters
Replaceable
3"
Polypropylene Plastic
Solid
0000000
0000000