Cushioned-Load

Casters with Rubber Wheels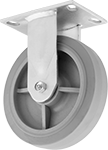 Rigid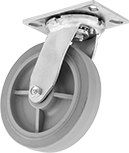 Swivel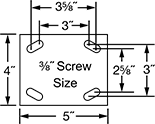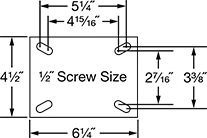 The soft rubber wheel and the sturdy steel frame withstand shock to protect your load. They have a hard core for strength. Use them on smooth or rough surfaces.
Wheels have roller bearings for smooth rolling.
Forged-steel frames are more durable than stamped frames.
Swivel casters have double-ball bearings for the smoothest swiveling.
Sealed bearings are completely sealed for the best protection against dust and debris.
Add optional wheel brakes to swivel casters to prevent the caster from rolling. To install, replace the wheel's existing bushing with the brake bushing and position the brake pedal so it is parallel to the ground. Optional swivel locks prevent the caster from swiveling with a twist of the ring.
For technical drawings and 3-D models, click on a part number.