Dollies for Equipment with Legs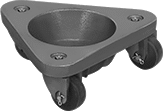 A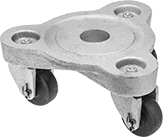 B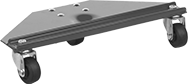 C
Put these dollies under each leg of a load for stable transport. The recessed center keeps legs from sliding off.
Style A dollies are for use with large diameter legs.
Style B dollies have a smaller recessed center than Style A.
Style C dollies move loads with and without legs. The longest edge has a lip to prevent items from sliding off. They are plastic coated for a nonskid, nonmarring contact surface.
Rubber wheels absorb shock. Iron wheels combine strength and durability to handle higher capacities than rubber wheels. Phenolic wheels are lightweight and nonmarking.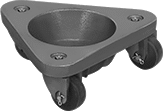 A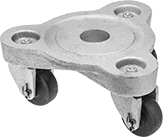 B
Style

O'all




Cap.,




lbs.

Body
Material
Body
Color

Dia.

Ht.

Platform
Style

Dia.

Dp.

Wheel
Configuration
Brake
Type
Caster
Mount
Type

Dia.

Type
Each
Each

Powder-Coated

Iron Body and Rubber Wheels

A
375
Powder-Coated Iron
Gray
11"
3"
Recessed
3

3/16

" - 5"
2"
Three Swivel Casters
None
Permanent
2"
Solid
000000
0000000
000000
00000
A
630
Powder-Coated Iron
Gray
15"
4

1/4

"
Recessed
5

1/4

" - 6

3/4

"
2"
Three Swivel Casters
None
Permanent
3"
Solid
0000000
000000
000000
00000

Powder-Coated

Iron Body and Iron Wheels

A
450
Powder-Coated Iron
Gray
11"
3"
Recessed
3

3/16

" - 5"
2"
Three Swivel Casters
None
Permanent
2"
Solid
000000
000000
000000
0000
A
750
Powder-Coated Iron
Gray
15"
4

1/4

"
Recessed
5

1/4

" - 6

3/4

"
2"
Three Swivel Casters
None
Permanent
3"
Solid
0000000
000000
000000
00000

Powder-Coated

Iron Body and Phenolic Plastic Wheels

A
750
Powder-Coated Iron
Gray
15"
4

1/4

"
Recessed
5

1/4

" - 6

3/4

"
2"
Three Swivel Casters
None
Permanent
3"
Solid
0000000
000000
000000
00000

Iron Body and Rubber Wheels

B
525
Iron
__
12"
4

1/4

"
Recessed
1

1/4

" - 1

3/4

"
1

1/4

"
Three Swivel Casters
None
Permanent
2

1/2

"
Solid
000000
000000
000000
0000

Iron Body and Iron Wheels

B
525
Iron
__
12"
4

1/4

"
Recessed
1

1/4

" - 1

3/4

"
1

1/4

"
Three Swivel Casters
None
Permanent
2

1/2

"
Solid
000000
000000
000000
0000
Plastic-Coated Platform—Flush, Lipped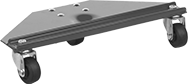 C
Style

O'all




Cap.,




lbs.

Lg.

Wd.

Ht.

Style
Gauge
Lip


Ht.

Dia.

Dp.

Wheel
Configuration
Brake
Type
Caster
Mount
Type

Dia.

Type
Each

Steel Body and Rubber Wheels

C
400
19

3/4

"
8"
3

1/2

"
Recessed
12

1/4

"

3/4

" - 3"
1"
Three Swivel Casters
None
Replaceable
2

1/2

"
Solid
000000
0000000
Replacement Casters for Style C
Dia.

Wd.

Mount


Ht.

Cap.

per


Caster,

lbs.

Wheel/Tread


Material
Frame
Material
Caster
Type
Each
2

1/2

"
1

1/8

"
3

1/4

"
175
Rubber
Steel
Swivel
00000000
000000