Extra-High-Capacity

Brute Casters with Phenolic Wheels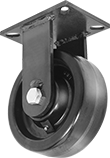 Rigid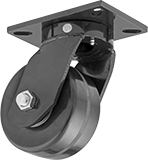 Swivel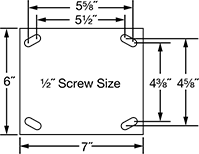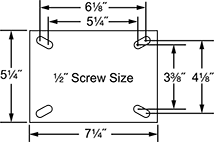 Swivel casters have a kingpinless raceway with ball bearings for good impact resistance, smooth swiveling, and extended service life.
All casters have nonmarking phenolic wheels for use on smooth surfaces.
The wheels have roller bearings for smooth rolling.
Add optional wheel brakes to prevent the caster from rolling. Optional swivel locks prevent the caster from swiveling with the twist of the ring.
For technical drawings and 3-D models, click on a part number.
Dia.

Wd.

Mount


Ht.

Cap.

per


Caster,

lbs.

Hardness
Type
Material
Frame Material
Each

Rigid

Nonmarking Black Solid

Wheels—

Hard

6"
3"
8

1/8

"
2,000
Durometer 95D
Roller
Steel
Painted Steel
00000000
0000000
8"
3"
10

5/8

"
2,500
Durometer 95D
Roller
Steel
Painted Steel
0000000
000000
10"
3"
12

5/8

"
2,900
Durometer 95D
Roller
Steel
Painted Steel
00000000
000000
12"
3"
15

5/8

"
3,500
Durometer 95D
Roller
Steel
Painted Steel
0000000
000000

Nonmarking Black Solid

Wheels—

Hard

6"
3"
8"
2,000
Durometer 95D
Roller
Steel
Painted Steel
0000000
00000
8"
3"
10

1/2

"
2,500
Durometer 95D
Roller
Steel
Painted Steel
0000000
000000
10"
3"
12

1/2

"
2,900
Durometer 95D
Roller
Steel
Painted Steel
0000000
000000
12"
3"
15

1/2

"
3,500
Durometer 95D
Roller
Steel
Painted Steel
0000000
000000

Swivel

Nonmarking Black Solid

Wheels—

Hard

6"
3"
8

1/8

"
2,000
Durometer 95D
Roller
Steel
Painted Steel
00000000
000000
8"
3"
10

5/8

"
2,500
Durometer 95D
Roller
Steel
Painted Steel
0000000
000000
10"
3"
12

5/8

"
2,900
Durometer 95D
Roller
Steel
Painted Steel
00000000
000000
12"
3"
15

5/8

"
3,500
Durometer 95D
Roller
Steel
Painted Steel
0000000
000000

Nonmarking Black Solid

Wheels—

Hard

6"
3"
8"
2,000
Durometer 95D
Roller
Steel
Painted Steel
0000000
000000
8"
3"
10

1/2

"
2,500
Durometer 95D
Roller
Steel
Painted Steel
0000000
000000
10"
3"
12

1/2

"
2,900
Durometer 95D
Roller
Steel
Painted Steel
0000000
000000
12"
3"
15

1/2

"
3,500
Durometer 95D
Roller
Steel
Painted Steel
0000000
000000
| | | | |
| --- | --- | --- | --- |
| Optional Wheel Brake for Swivel Casters with 8" Dia. Wheels | 000000000 | Each | 000000 |
| Optional Wheel Brake for Swivel Casters with 6" Dia. Wheels | 000000000 | Each | 00000 |
| Optional Wheel Brake for Swivel Casters with 10" Dia. Wheels | 000000000 | Each | 00000 |
| Optional Swivel Lock for Swivel Casters with Mounting Plate Style 2 | 00000000 | Each | 00000 |