Extra-High-Capacity

Colossus Casters with Polyurethane Wheels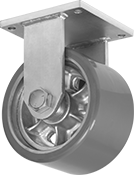 Rigid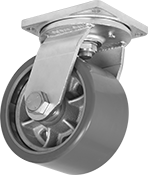 Swivel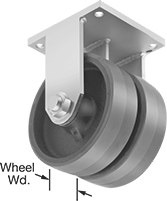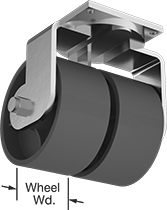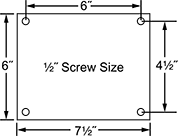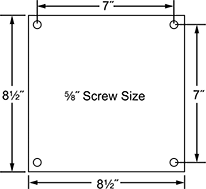 Move your heaviest loads with the largest casters we offer. Their forged steel construction holds up in demanding applications. Wheels have a hard metal core for strength with a polyurethane tread that combines the abrasion resistance of plastic with the shock-absorbing qualities of rubber. Use them on smooth or rough floors and in areas with debris.
Impact-resistant tapered roller bearings in the wheel and the swivel withstand both downward and side force.
Dual-wheel casters provide better load distribution and easier turning than single-wheel casters.
For technical drawings and 3-D models, click on a part number.
Dia.

Wd.

No.


of
Mount


Ht.

Cap.

per


Caster,

lbs.

Hardness
Type
Roller
Bearing
Type
Material
Frame
Material
Each

Rigid

Nonmarking Red

Tread-on-Core

Wheels—

Firm

10"
4"
1
12

1/2

"
5,000
Durometer 95A
Roller
Tapered
Steel
Powder-Coated Steel
0000000
0000000
12"
4"
1
15

1/2

"
5,500
Durometer 95A
Roller
Tapered
Steel
Powder-Coated Steel
0000000
000000

Nonmarking Blue

Tread-on-Core

Wheels—

Firm

10"
4"
1
13"
5,000
Durometer 95A
Roller
Tapered
Steel
Painted Steel
0000000
000000
12"
4"
1
15

1/2

"
6,000
Durometer 95A
Roller
Tapered
Steel
Painted Steel
0000000
000000

Nonmarking Green

Tread-on-Core

Wheels—

Firm

10"
3"
2
13"
6,000
Durometer 95A
Roller
Tapered
Steel
Zinc-Plated Steel
0000000
000000
10"
5"
2
13"
10,000
Durometer 95A
Roller
Tapered
Steel
Zinc-Plated Steel
0000000
00000000
10"
6"
1
13"
6,000
Durometer 95A
Roller
Tapered
Steel
Zinc-Plated Steel
0000000
000000
12"
4"
2
15

1/2

"
9,600
Durometer 95A
Roller
Tapered
Steel
Zinc-Plated Steel
0000000
000000
12"
5"
2
15

1/2

"
12,000
Durometer 95A
Roller
Tapered
Steel
Zinc-Plated Steel
0000000
00000000

Swivel

Nonmarking Red

Tread-on-Core

Wheels—

Firm

10"
4"
1
12

1/2

"
5,000
Durometer 95A
Roller
Tapered
Steel
Powder-Coated Steel
0000000
000000
12"
4"
1
15

1/2

"
5,500
Durometer 95A
Roller
Tapered
Steel
Powder-Coated Steel
0000000
000000

Nonmarking Blue

Tread-on-Core

Wheels—

Firm

10"
4"
1
13"
5,000
Durometer 95A
Roller
Tapered
Steel
Painted Steel
0000000
000000
12"
4"
1
15

1/2

"
6,000
Durometer 95A
Roller
Tapered
Steel
Painted Steel
0000000
000000

Nonmarking Green

Tread-on-Core

Wheels—

Firm

10"
3"
2
13"
6,000
Durometer 95A
Roller
Tapered
Steel
Zinc-Plated Steel
0000000
00000000
10"
5"
2
13"
10,000
Durometer 95A
Roller
Tapered
Steel
Zinc-Plated Steel
0000000
00000000
10"
6"
1
13"
6,000
Durometer 95A
Roller
Tapered
Steel
Zinc-Plated Steel
0000000
00000000
12"
4"
2
15

1/2

"
9,600
Durometer 95A
Roller
Tapered
Steel
Zinc-Plated Steel
0000000
00000000
12"
5"
2
15

1/2

"
12,000
Durometer 95A
Roller
Tapered
Steel
Zinc-Plated Steel
0000000
00000000