Extra-High-Capacity

Compact Alliance Casters with Metal Wheels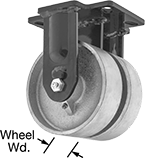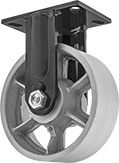 Rigid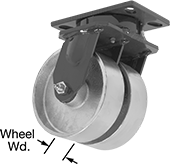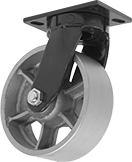 Swivel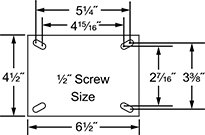 With the smallest mounting plates and the lowest mounting heights of extra-high-capacity casters, these are a strong choice for tight spaces. Their iron wheels offer the strength and wear resistance you need for heavy loads and long life and can withstand temperatures up to 350°F. They roll best on smooth surfaces.
Wheels have roller bearings for smooth rolling.
Dual-wheel casters provide better load distribution and easier turning than single-wheel casters.
Swivel casters have completely sealed ball bearings for smooth swiveling and the best protection against dust and debris. The kingpinless swivel raceway distributes impact better than standard kingpin casters, enabling smooth swiveling and extending service life.
Add optional wheel brakes to prevent the caster from rolling. Optional swivel locks prevent the caster from swiveling with the twist of the ring.
For technical drawings and 3-D models, click on a part number.
Dia.

Wd.

No.


of
Mount


Ht.

Cap.

per


Caster,

lbs.

Type
Material
Frame Material
Each
Each

Painted Gray Solid Iron

Wheels—

Hard

5"
2"
2
7

1/2

"
2,000
Roller
Steel
Painted Steel
0000000
0000000
0000000
0000000
6"
2"
2
8"
2,400
Roller
Steel
Painted Steel
0000000
000000
0000000
000000
8"
2"
2
10

1/8

"
2,800
Roller
Steel
Painted Steel
0000000
000000
0000000
000000
8"
3"
1
10

1/8

"
2,500
Roller
Steel
Painted Steel
00000000
000000
00000000
000000
10"
3"
1
11

1/2

"
4,000
Roller
Steel
Painted Steel
00000000
000000
00000000
000000