Extra-High-Capacity

Stronghart Casters with Nylon Wheels

Rigid

Rigid with Brake

Swivel

Swivel with Brake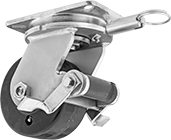 Swivel with Brake and Swivel Lock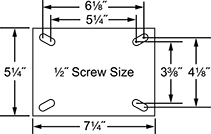 Mounting Plate
Forged steel construction holds up in demanding applications. Wheels are impact- and wear-resistant nylon. They work well on smooth surfaces.
Ball bearings in the wheel provide smooth rolling. They are completely sealed for the best resistance to dust and debris.
Swivel casters have double-ball bearings for the smoothest swiveling. Casters with wheel brake apply pressure to the wheel to stop movement with a press of the foot pedal. Casters with swivel lock prevent the caster from swiveling with a twist of the ring.
For technical drawings and 3-D models, click on a part number.
Dia.

Wd.

Mount


Ht.

Cap.

per


Caster,

lbs.

Hardness
Each

Rigid

Nonmarking Black Solid

Wheels—

Hard

6"
3"
8"
3,500
Durometer 80D
00000000
0000000
8"
3"
10

1/2

"
3,500
Durometer 80D
0000000
000000

Rigid with Brake

Nonmarking Black Solid

Wheels—

Hard

6"
3"
8"
3,500
Durometer 80D
0000000
000000
8"
3"
10

1/2

"
3,500
Durometer 80D
0000000
000000

Swivel

Nonmarking Black Solid

Wheels—

Hard

6"
3"
8"
3,500
Durometer 80D
00000000
000000
8"
3"
10

1/2

"
3,500
Durometer 80D
0000000
000000

Swivel with Brake

Nonmarking Black Solid

Wheels—

Hard

6"
3"
8"
3,500
Durometer 80D
0000000
000000
8"
3"
10

1/2

"
3,500
Durometer 80D
0000000
000000

Swivel with Brake and Swivel Lock

Nonmarking Black Solid

Wheels—

Hard

6"
3"
8"
3,500
Durometer 80D
0000000
000000
8"
3"
10

1/2

"
3,500
Durometer 80D
0000000
000000