Extra-High-Capacity

Viking Casters with Phenolic Wheels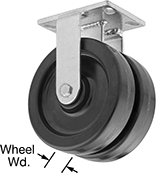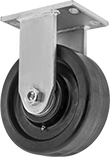 Rigid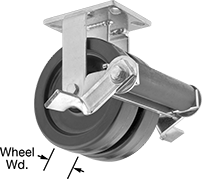 Dual-Wheel
Rigid With Brake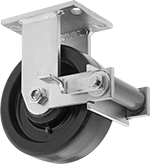 Rigid with Brake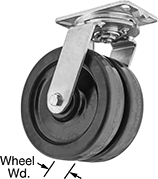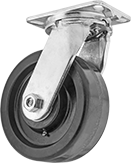 Swivel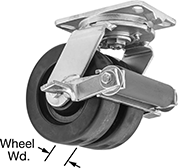 Dual-Wheel
Swivel with Brake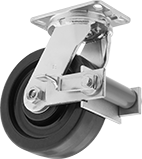 Swivel with Brake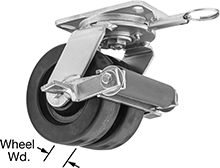 Dual-Wheel
Swivel with Brake and Swivel Lock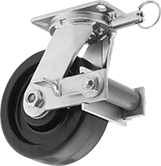 Swivel with Brake and Swivel Lock
Rigid Mounting Plate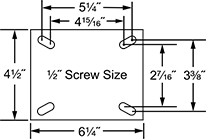 Swivel Mounting Plate
Strong, thick forged steel frames make these casters suitable for medium and heavy duty applications. They have nonmarking phenolic wheels for use on smooth floors.
The wheels have roller bearings for smooth rolling.
Dual-wheel casters provide better load distribution and easier turning than single-wheel casters.
Swivel casters have double-ball bearings for the smoothest swiveling. Casters with wheel brake apply pressure to the wheel to stop movement with a press of the foot pedal. Casters with swivel lock prevent the caster from swiveling with a twist of the ring.
For technical drawings and 3-D models, click on a part number.
Dia.

Wd.

No.


of
Mount


Ht.

Cap.

per


Caster,

lbs.

Hardness
Each

Rigid

Nonmarking Black Solid

Wheels—

Hard

5"
2"
2
6

1/2

"
2,000
Durometer 90D
0000000
0000000
6"
2"
2
7

1/2

"
2,000
Durometer 90D
0000000
000000
6"
3"
1
7

5/8

"
2,000
Durometer 90D
0000000
000000
8"
2"
2
10

1/8

"
2,000
Durometer 90D
0000000
000000
8"
3"
1
10

1/8

"
2,000
Durometer 90D
0000000
000000
10"
3"
1
11

1/2

"
2,000
Durometer 90D
0000000
000000

Rigid with Brake

Nonmarking Black Solid

Wheels—

Hard

5"
2"
2
6

1/2

"
2,000
Durometer 90D
00000000
000000
6"
2"
2
7

1/2

"
2,000
Durometer 90D
00000000
000000
6"
3"
1
7

5/8

"
2,000
Durometer 90D
00000000
000000
8"
2"
2
10

1/8

"
2,000
Durometer 90D
00000000
000000
8"
3"
1
10

1/8

"
2,000
Durometer 90D
0000000
000000
10"
3"
1
11

1/2

"
2,000
Durometer 90D
0000000
000000

Swivel

Nonmarking Black Solid

Wheels—

Hard

5"
2"
2
6

1/2

"
2,000
Durometer 90D
0000000
000000
6"
2"
2
7

1/2

"
2,000
Durometer 90D
0000000
000000
6"
3"
1
7

5/8

"
2,000
Durometer 90D
0000000
000000
8"
2"
2
10

1/8

"
2,000
Durometer 90D
0000000
000000
8"
3"
1
10

1/8

"
2,000
Durometer 90D
0000000
000000
10"
3"
1
11

1/2

"
2,000
Durometer 90D
0000000
000000

Swivel with Brake

Nonmarking Black Solid

Wheels—

Hard

5"
2"
2
6

1/2

"
2,000
Durometer 90D
00000000
000000
6"
2"
2
7

1/2

"
2,000
Durometer 90D
00000000
000000
6"
3"
1
7

5/8

"
2,000
Durometer 90D
00000000
000000
8"
2"
2
10

1/8

"
2,000
Durometer 90D
00000000
000000
8"
3"
1
10

1/8

"
2,000
Durometer 90D
0000000
000000
10"
3"
1
11

1/2

"
2,000
Durometer 90D
0000000
000000

Swivel with Brake and Swivel Lock

Nonmarking Black Solid

Wheels—

Hard

5"
2"
2
6

1/2

"
2,000
Durometer 90D
00000000
000000
6"
2"
2
7

1/2

"
2,000
Durometer 90D
00000000
000000
6"
3"
1
7

5/8

"
2,000
Durometer 90D
00000000
000000
8"
2"
2
10

1/8

"
2,000
Durometer 90D
00000000
000000
8"
3"
1
10

1/8

"
2,000
Durometer 90D
00000000
000000
10"
3"
1
11

1/2

"
2,000
Durometer 90D
00000000
000000