Flat-Free

Casters with Rubber Wheels

Rigid

Swivel

Swivel with Brake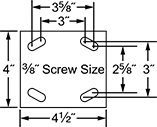 The solid rubber wheels on these casters cushion as well as pneumatic wheels but won't go flat. Use them on smooth or rough surfaces.
Wheels either have sleeve or ball bearings. Sleeve bearings prevent wear to the wheel bore. Ball bearings in the wheel provide easy rolling. Shielded ball bearings also resist dust and debris.
Swivel casters have double-ball bearings for the smoothest swiveling. Casters with wheel brake apply pressure to the wheel to stop movement with a press of the foot pedal.
For technical drawings and 3-D models, click on a part number.
Dia.

Wd.

Mount


Ht.

Cap.

per


Caster,




lbs.

Hardness
Type
Seal
Type
Each
Swivel
Bearing
Seal Type
Each
Swivel
Bearing
Seal Type
Each

Black

Flat-Free

Wheels—

Soft

3"
1"
3

1/2

"
120
Durometer 70A
Sleeve
Open
0000000
000000
Open
0000000
000000
Open
0000000
000000
6"
1

1/4

"
7

1/4

"
150
Durometer 70A
Ball
Open
0000000
00000
Shielded
0000000
00000
Shielded
0000000
00000

Black

Flat-Free

Wheels—

Soft

6"
2"
7

1/2

"
250
Durometer 65A
Ball
Shielded
00000000
00000
Open
00000000
00000
Open
00000000
00000