Friction-Grip

Stem Casters with Polyurethane Wheels

Swivel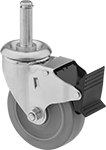 Swivel with Total Lock
Wheels have a hard polypropylene core for strength under a polyurethane tread that combines the abrasion resistance of plastic with the shock-absorbing qualities of rubber. They can be used on smooth and rough floors and in areas with debris. Friction on their stem's grip ring holds them in place. Ball bearings in the wheel provide easy rolling. Casters have double-ball swivel bearings for the smoothest swiveling.
Casters with total lock brake the wheel and lock the swivel with one press of the foot pedal.
For technical drawings and 3-D models, click on a part number.
Dia.

Wd.

Mount


Ht.

Cap.

per


Caster,




lbs.

Hardness

Dia.

Lg.

Type
Seal
Type
Frame
Material
Type
Seal
Type
Each

Swivel

Round Stem with Grip Ring

Red

Tread-on-Core

Wheels—

Hard

3

1/2

"
1

1/4

"
4

9/16

"
250
Durometer 55D

5/8

"
2

3/16

"
Ball
Open
Zinc-Plated Steel
Double Ball
Open
0000000
000000
4"
1

1/4

"
5"
270
Durometer 55D

5/8

"
2

3/16

"
Ball
Open
Zinc-Plated Steel
Double Ball
Open
0000000
00000
5"
1

1/4

"
6

1/16

"
300
Durometer 55D

5/8

"
2

3/16

"
Ball
Open
Zinc-Plated Steel
Double Ball
Open
0000000
00000

Swivel with Total Lock

Round Stem with Grip Ring

Red

Tread-on-Core

Wheels—

Hard

3

1/2

"
1

1/4

"
4

9/16

"
250
Durometer 55D

5/8

"
2

3/16

"
Ball
Open
Zinc-Plated Steel
Double Ball
Open
0000000
00000
4"
1

1/4

"
5"
270
Durometer 55D

5/8

"
2

3/16

"
Ball
Open
Zinc-Plated Steel
Double Ball
Open
0000000
00000
5"
1

1/4

"
6

1/16

"
300
Durometer 55D

5/8

"
2

3/16

"
Ball
Open
Zinc-Plated Steel
Double Ball
Open
0000000
00000