Friction-Grip

Stem Casters with Rubber Wheels for Wire Shelving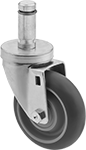 Round Stem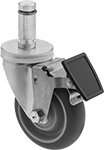 Round Stem with Brake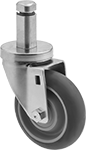 Square Stem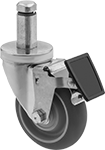 Square Stem with Brake
Also known as universal casters, press-fit these casters into standard 1" OD wire shelving posts and friction on their stem's grip ring holds them in place. Wheels have a soft rubber tread for shock resistance with a hard polypropylene core for strength. Use them on smooth or rough surfaces. Flanged-sleeve wheel bearings prevent wear to the wheel bore. Casters have shielded double-ball swivel bearings for the smoothest swiveling and protection from dust and debris.
Casters with wheel brake apply pressure to the wheel to stop movement with a press of the foot pedal.
304 stainless steel frames are corrosion resistant.
For technical drawings and 3-D models, click on a part number.
Dia.

Wd.

Mount


Ht.

Cap.

per


Caster,




lbs.

Hardness

Dia.

Lg.

For
Tube
Gauge
Wheel
Bearing
Type
Wheel Plain
Bearing
Type
Frame
Material
Each

Swivel

Round Stem with Grip Ring

Gray

Tread-on-Core

Wheels—

Soft

4"
1

1/4

"
4

15/16

"
250
Durometer 65A

7/8

"
2

3/16

"
16 ga.
Plain
Flanged Sleeve
Zinc-Plated Steel
00000000
000000
4"
1

1/4

"
4

15/16

"
250
Durometer 65A

7/8

"
2

3/16

"
16 ga.
Plain
Flanged Sleeve
304 Stainless Steel
00000000
000000
5"
1

1/4

"
6"
250
Durometer 65A

7/8

"
2

3/16

"
16 ga.
Plain
Flanged Sleeve
304 Stainless Steel
000000000
000000
5"
1

1/4

"
6

1/16

"
250
Durometer 65A

7/8

"
2

3/16

"
16 ga.
Plain
Flanged Sleeve
Zinc-Plated Steel
00000000
00000

Square Stem with Grip Ring

Gray

Tread-on-Core

Wheels—

Soft

4"
1

1/4

"
4

15/16

"
250
Durometer 65A

7/8

"
2

3/16

"
16 ga.
Plain
Flanged Sleeve
Zinc-Plated Steel
00000000
00000
5"
1

1/4

"
6

1/16

"
250
Durometer 65A

7/8

"
2

3/16

"
16 ga.
Plain
Flanged Sleeve
Zinc-Plated Steel
00000000
00000

Swivel with Brake

Round Stem with Grip Ring

Gray

Tread-on-Core

Wheels—

Soft

4"
1

1/4

"
4

15/16

"
250
Durometer 65A

7/8

"
2

3/16

"
16 ga.
Plain
Flanged Sleeve
Zinc-Plated Steel
00000000
00000
4"
1

1/4

"
4

15/16

"
250
Durometer 65A

7/8

"
2

3/16

"
16 ga.
Plain
Flanged Sleeve
304 Stainless Steel
000000000
000000
5"
1

1/4

"
6"
250
Durometer 65A

7/8

"
2

3/16

"
16 ga.
Plain
Flanged Sleeve
304 Stainless Steel
000000000
000000
5"
1

1/4

"
6

1/16

"
250
Durometer 65A

7/8

"
2

3/16

"
16 ga.
Plain
Flanged Sleeve
Zinc-Plated Steel
00000000
00000

Square Stem with Grip Ring

Gray

Tread-on-Core

Wheels—

Soft

4"
1

1/4

"
4

15/16

"
250
Durometer 65A

7/8

"
2

3/16

"
16 ga.
Plain
Flanged Sleeve
Zinc-Plated Steel
00000000
00000
5"
1

1/4

"
6

1/16

"
250
Durometer 65A

7/8

"
2

3/16

"
16 ga.
Plain
Flanged Sleeve
Zinc-Plated Steel
00000000
00000