High-Capacity

Easy-Turn

Casters with Polyurethane Wheels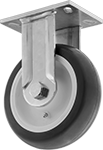 Rigid with Rounded Tread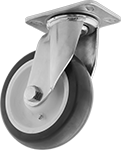 Swivel with Rounded Tread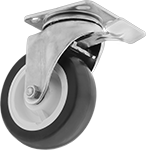 Swivel with Total Lock and Rounded Tread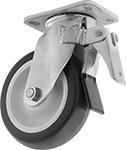 Swivel with Brake and Rounded Tread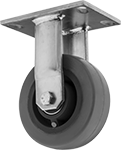 Rigid with Flat Tread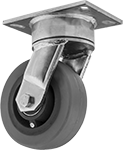 Swivel with Flat Tread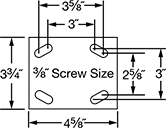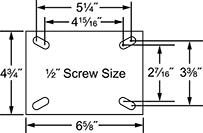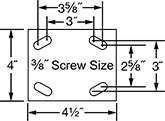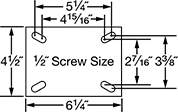 These highly maneuverable casters let you turn easily. Their polyurethane wheels combine the abrasion resistance of plastic with the shock-absorbing qualities of rubber. They have a core that is harder than the tread, balancing strength with cushioning. Use them on smooth or rough floors and in areas with debris.
Soft wheel treads are cushioning; Firm wheel treads are abrasion resistant.
Roller bearings are smooth rolling. Ball bearings are the easiest to roll. Sealed bearings are completely sealed for the best protection against dust and debris.
Swivel casters with sealed ball bearings have smooth swiveling and protection from dust and debris. Swivel casters with shielded double-ball swivel bearings have the smoothest swiveling and resistance to dust and debris.
Rounded wheels are easy to turn.
Kingpinless swivel raceways distribute impact better than standard kingpin casters, enabling smoother swiveling and extending service life.
Casters with wheel brake apply pressure to the wheel to stop movement with a press of the foot pedal. Casters with total lock brake the wheel and lock the swivel with one press of the foot pedal.
Casters that meet NSF/ANSI standards can be used in food processing applications.
For technical drawings and 3-D models, click on a part number.
Dia.

Wd.

Mount

Ht.

Cap.

per


Caster,

lbs.

Hardness
Tread
Shape
Specifications
Met
Each

Rigid

Nonmarking Gray

Tread-on-Core

Wheels—

Soft

8"
2"
9

1/2

"
700
Durometer 85A
Rounded
NSF/ANSI 2

0000000
000000

Nonmarking Red

Tread-on-Core

Wheels—

Firm

5"
2"
6

1/2

"
700
Durometer 95A
Rounded
NSF/ANSI 2

0000000
00000
6"
2"
7

1/2

"
820
Durometer 95A
Rounded
NSF/ANSI 2

0000000
00000
8"
2"
9

1/2

"
1,000
Durometer 95A
Rounded
NSF/ANSI 2

0000000
00000

Nonmarking Gray

Tread-on-Core

Wheels—

Soft

6"
2

1/2

"
7

3/4

"
950
Durometer 85A
Rounded
__
0000000
00000
8"
2

1/2

"
10

1/4

"
1,100
Durometer 85A
Rounded
__
0000000
000000
10"
2

1/2

"
12

1/4

"
1,300
Durometer 85A
Rounded
__
0000000
000000

Nonmarking Red

Tread-on-Core

Wheels—

Firm

6"
2

1/2

"
7

3/4

"
1,200
Durometer 95A
Rounded
__
0000000
00000
8"
2

1/2

"
10

1/4

"
1,400
Durometer 95A
Rounded
__
0000000
000000
10"
2

1/2

"
12

1/4

"
1,600
Durometer 95A
Rounded
__
0000000
000000

Nonmarking Red

Tread-on-Core

Wheels—

Soft

4"
2"
5

5/8

"
800
Durometer 85A
Rounded
__
0000000
00000
5"
2"
6

1/2

"
1,000
Durometer 85A
Rounded
__
0000000
000000
6"
2"
7

1/2

"
1,250
Durometer 85A
Rounded
__
0000000
000000
8"
2"
9

1/2

"
1,250
Durometer 85A
Rounded
__
0000000
000000

Nonmarking Brown

Tread-on-Core

Wheels—

Soft

6"
2"
8

5/16

"
1,500
Durometer 75A
Flat
__
0000000
000000

Nonmarking Red

Tread-on-Core

Wheels—

Soft

6"
2"
8

5/16

"
1,000
Durometer 75A
Flat
__
0000000
000000
8"
2"
10

1/4

"
1,500
Durometer 75A
Flat
__
0000000
000000

Swivel

Nonmarking Gray

Tread-on-Core

Wheels—

Soft

8"
2"
9

1/2

"
700
Durometer 85A
Rounded
NSF/ANSI 2

0000000
00000

Nonmarking Red

Tread-on-Core

Wheels—

Firm

5"
2"
6

1/2

"
700
Durometer 95A
Rounded
NSF/ANSI 2

0000000
00000
6"
2"
7

1/2

"
820
Durometer 95A
Rounded
NSF/ANSI 2

0000000
00000
8"
2"
9

1/2

"
1,000
Durometer 95A
Rounded
NSF/ANSI 2

0000000
00000

Nonmarking Gray

Tread-on-Core

Wheels—

Soft

6"
2

1/2

"
7

3/4

"
950
Durometer 85A
Rounded
__
0000000
000000
8"
2

1/2

"
10

1/4

"
1,100
Durometer 85A
Rounded
__
0000000
000000
10"
2

1/2

"
12

1/4

"
1,300
Durometer 85A
Rounded
__
0000000
000000

Nonmarking Red

Tread-on-Core

Wheels—

Firm

6"
2

1/2

"
7

3/4

"
1,200
Durometer 95A
Rounded
__
0000000
000000
8"
2

1/2

"
10

1/4

"
1,400
Durometer 95A
Rounded
__
0000000
000000
10"
2

1/2

"
12

1/4

"
1,600
Durometer 95A
Rounded
__
0000000
000000

Nonmarking Red

Tread-on-Core

Wheels—

Soft

4"
2"
5

5/8

"
800
Durometer 85A
Rounded
__
0000000
000000
5"
2"
6

1/2

"
1,000
Durometer 85A
Rounded
__
0000000
000000
6"
2"
7

1/2

"
1,250
Durometer 85A
Rounded
__
0000000
000000
8"
2"
9

1/2

"
1,250
Durometer 85A
Rounded
__
0000000
000000

Nonmarking Brown

Tread-on-Core

Wheels—

Soft

6"
2"
8

5/16

"
1,500
Durometer 75A
Flat
__
0000000
000000

Nonmarking Red

Tread-on-Core

Wheels—

Soft

6"
2"
8

5/16

"
1,000
Durometer 75A
Flat
__
0000000
000000
8"
2"
10

1/4

"
1,500
Durometer 75A
Flat
__
0000000
000000

Swivel with Brake

Nonmarking Gray

Tread-on-Core

Wheels—

Soft

6"
2

1/2

"
7

3/4

"
950
Durometer 85A
Rounded
__
0000000
000000
8"
2

1/2

"
10

1/4

"
1,100
Durometer 85A
Rounded
__
0000000
000000
10"
2

1/2

"
12

1/4

"
1,300
Durometer 85A
Rounded
__
0000000
000000

Nonmarking Red

Tread-on-Core

Wheels—

Firm

6"
2

1/2

"
7

3/4

"
1,200
Durometer 95A
Rounded
__
0000000
000000
8"
2

1/2

"
10

1/4

"
1,400
Durometer 95A
Rounded
__
0000000
000000
10"
2

1/2

"
12

1/4

"
1,600
Durometer 95A
Rounded
__
0000000
000000

Nonmarking Red

Tread-on-Core

Wheels—

Soft

4"
2"
5

5/8

"
800
Durometer 85A
Rounded
__
0000000
000000
5"
2"
6

1/2

"
1,000
Durometer 85A
Rounded
__
0000000
000000
6"
2"
7

1/2

"
1,250
Durometer 85A
Rounded
__
0000000
000000
8"
2"
9

1/2

"
1,250
Durometer 85A
Rounded
__
0000000
000000

Swivel with Total Lock

Nonmarking Gray

Tread-on-Core

Wheels—

Soft

8"
2"
9

1/2

"
700
Durometer 85A
Rounded
NSF/ANSI 2

00000000
00000

Nonmarking Red

Tread-on-Core

Wheels—

Firm

5"
2"
6

1/2

"
700
Durometer 95A
Rounded
NSF/ANSI 2

00000000
00000
6"
2"
7

1/2

"
820
Durometer 95A
Rounded
NSF/ANSI 2

00000000
00000
8"
2"
9

1/2

"
1,000
Durometer 95A
Rounded
NSF/ANSI 2

00000000
00000
| | | | |
| --- | --- | --- | --- |
| Optional Swivel Lock for Swivel Casters with Mounting Plate Style 3 | 000000 | Each | 000000 |