High-Capacity

Flat-Free

Casters with Rubber Wheels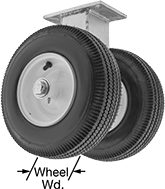 Rigid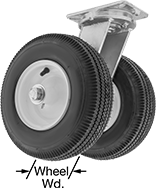 Swivel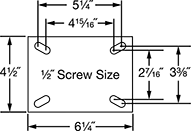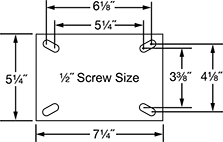 These wheels cushion just as well as pneumatic casters over smooth or rough surfaces but are filled with polyurethane foam so they won't go flat. Their dual-wheel design provides better load distribution and easier turning than single-wheel casters.
The wheels have roller bearings for smooth rolling.
Swivel casters have double-ball bearings for the smoothest swiveling.
For technical drawings and 3-D models, click on a part number.
Dia.

Wd.

No.


of
Tire
Size
Mount


Ht.

Cap.

per


Caster,




lbs.

Hardness
Type
Material
Fabrication
Material
Each

Rigid

Black Flat Free

Wheels—

Soft

10"
4

1/8

"
2
4.10/4
13"
700
Durometer 75A
Roller
Steel
Forged
Zinc-Plated Steel
0000000
0000000

Black Flat Free

Wheels—

Soft

12"
4

1/8

"
2
4.10/6
15

1/2

"
890
Durometer 75A
Roller
Steel
Forged
Zinc-Plated Steel
0000000
000000
14"
5

5/16

"
2
5.30/6
17

3/4

"
1,500
Durometer 75A
Roller
Steel
Forged
Zinc-Plated Steel
0000000
000000

Swivel

Black Flat Free

Wheels—

Soft

10"
4

1/8

"
2
4.10/4
13"
700
Durometer 75A
Roller
Steel
Forged
Zinc-Plated Steel
0000000
000000

Black Flat Free

Wheels—

Soft

12"
4

1/8

"
2
4.10/6
15

1/2

"
890
Durometer 75A
Roller
Steel
Forged
Zinc-Plated Steel
0000000
000000
14"
5

5/16

"
2
5.30/6
17

3/4

"
1,500
Durometer 75A
Roller
Steel
Forged
Zinc-Plated Steel
0000000
000000