High-Capacity

Gladiator Casters with Phenolic Wheels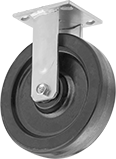 Rigid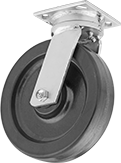 Swivel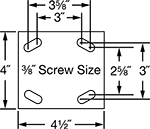 Swivel casters have double-ball bearings and kingpinless swivel raceways for better weight distribution and smoother swiveling than other kingpinless casters.
All casters have nonmarking phenolic wheels that roll best on smooth surfaces.
The wheels have roller bearings for smooth rolling.
For technical drawings and 3-D models, click on a part number.
Dia.

Wd.

Mount


Ht.

Cap.

per


Caster,

lbs.

Hardness
Type
Material
Frame Material
Each

Rigid

Nonmarking Black Solid

Wheels—

Hard

3

1/4

"
2"
4

5/8

"
700
Durometer 90D
Roller
Steel
Zinc-Plated Steel
00000000
000000
4"
2"
5

5/8

"
800
Durometer 90D
Roller
Steel
Zinc-Plated Steel
00000000
00000
5"
2"
6

1/2

"
1,000
Durometer 90D
Roller
Steel
Zinc-Plated Steel
00000000
00000
6"
2"
7

1/2

"
1,200
Durometer 90D
Roller
Steel
Zinc-Plated Steel
00000000
00000
8"
2"
9

1/2

"
1,400
Durometer 90D
Roller
Steel
Zinc-Plated Steel
00000000
00000

Swivel

Nonmarking Black Solid

Wheels—

Hard

3

1/4

"
2"
4

5/8

"
700
Durometer 90D
Roller
Steel
Zinc-Plated Steel
00000000
00000
4"
2"
5

5/8

"
800
Durometer 90D
Roller
Steel
Zinc-Plated Steel
00000000
00000
5"
2"
6

1/2

"
1,000
Durometer 90D
Roller
Steel
Zinc-Plated Steel
00000000
00000
6"
2"
7

1/2

"
1,200
Durometer 90D
Roller
Steel
Zinc-Plated Steel
00000000
00000
8"
2"
9

1/2

"
1,400
Durometer 90D
Roller
Steel
Zinc-Plated Steel
00000000
00000