High-Capacity

Kingston Casters with Phenolic Wheels

Rigid

Rigid with Brake

Swivel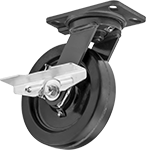 Swivel with Right Side Brake

Swivel with Left Side Brake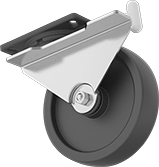 Swivel with Left Side Brake and Swivel Lock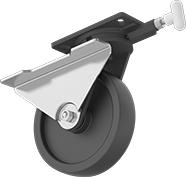 Swivel with Right Side Brake and Swivel Lock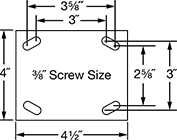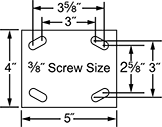 Forged steel construction gives these casters the strength for demanding applications. They have nonmarking phenolic wheels that roll best on smooth surfaces.
The wheels have roller bearings for smooth rolling.
Swivel casters have ball/tapered roller bearings for easy swiveling and good impact resistance. Casters with wheel brake apply pressure to the wheel to stop movement with a press of the foot pedal. Casters with swivel lock prevent the caster from swiveling with a turn of the handle.
For technical drawings and 3-D models, click on a part number.