High-Capacity

Patriot Casters with Polyurethane Wheels

Rigid

Swivel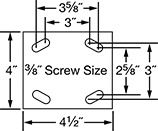 These casters have a strong frame for shock absorption. Use them on smooth or rough floors and in areas with debris.
Roller wheel bearings provide smoother rolling than sleeve bearings.
Swivel casters have double-ball bearings for the smoothest swiveling.
Optional swivel seal kit keeps out dust and debris.
Optional swivel locks prevent the caster from swiveling with a twist of the ring. Optional total lock brakes the wheel and locks the swivel in one operation.
For technical drawings and 3-D models, click on a part number.
Dia.

Wd.

Mount


Ht.

Cap.

per


Caster,

lbs.

Hardness
Type
Material
Frame Material
Each

Rigid

Nonmarking Blue Solid

Wheels—

Hard

4"
2"
5

5/8

"
700
Durometer 55D
Roller
Steel
Zinc-Plated Steel
0000000
000000
5"
2"
6

1/2

"
900
Durometer 55D
Roller
Steel
Zinc-Plated Steel
0000000
00000
6"
2"
7

1/2

"
900
Durometer 55D
Roller
Steel
Zinc-Plated Steel
0000000
00000
8"
2"
9

1/2

"
1,050
Durometer 55D
Roller
Steel
Zinc-Plated Steel
0000000
00000

Swivel

Nonmarking Blue Solid

Wheels—

Hard

4"
2"
5

5/8

"
700
Durometer 55D
Roller
Steel
Zinc-Plated Steel
0000000
00000
5"
2"
6

1/2

"
900
Durometer 55D
Roller
Steel
Zinc-Plated Steel
0000000
00000
6"
2"
7

1/2

"
900
Durometer 55D
Roller
Steel
Zinc-Plated Steel
0000000
00000
8"
2"
9

1/2

"
1,050
Durometer 55D
Roller
Steel
Zinc-Plated Steel
0000000
000000
| | | | |
| --- | --- | --- | --- |
| Optional Total Lock for Swivel Casters with 5" Dia. Wheels | 0000000 | Each | 000000 |
| Optional Swivel Seal Kits | 0000000 | Each | 0000 |
| Optional Swivel Lock | 0000000 | Each | 00000 |
| Optional Total Lock for Swivel Casters with 6" Dia. Wheels | 0000000 | Each | 00000 |
| Optional Total Lock for Swivel Casters with 4" Dia. Wheels | 0000000 | Each | 00000 |
| Optional Total Lock for Swivel Casters with 8" Dia. Wheels | 0000000 | Each | 00000 |