High-Capacity

Roller Track Dolly Sets for Smooth Surfaces

Rubber-Padded
Swivel Platform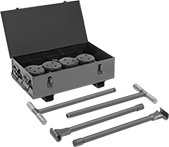 Rubber-Padded
Swivel Platform with Lock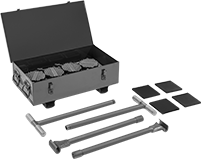 Diamond-Tread
Swivel Platform with Lock
This set has all of the pieces you need to move your heavy equipment. The small-diameter rollers on these dollies rotate like a conveyor belt around a center plate to distribute weight evenly and provide a smooth ride. The included steering handles help guide dollies around turns. They have steel rollers that are rugged but noisy, and can damage floors.
Rubber-padded dollies firmly grip loads without damaging the surface. Diamond-tread dollies have small teeth on the platform that grip the load.
Swivel platforms with lock provide the most controlled turns by locking every 45°.
Steel Rollers
Total
Per
Dolly
Dollies
Included
Swivel
Plates
Included

Lg.

Wd.

Ht.

Lg.

Wd.

Dia.

Body
Color

No.


per
Dolly

Dia.

Handle


Lg.

Includes
Each

Painted Steel

Rubber-Padded

Swivel Platform

6,000
1,500
4
4
6

1/2

"
3

5/8

"
3

5/16

"
4"
2

1/2

"
__
Green
14

11/16

"
14"
Steel Storage Box, Two Steering Handles
0000000
000000000
16,000
4,000
4
4
6

1/2

"
4

1/8

"
3

15/16

"
4"
2

1/2

"
__
Green
12

15/16

"
30"
Steel Storage Box, Two Steering Handles
0000000
00000000

Rubber-Padded

Swivel Platform with Lock

30,000
7,500
4
4
10

1/2

"
5

3/4

"
5"
__
__
5

3/4

"
Green
14

15/16

"
48"
Steel Storage Box, Two Steering Handles
0000000
00000000
60,000
15,000
4
4
10

1/2

"
5

3/4

"
5

1/4

"
__
__
5

3/4

"
Green
12
1

3/16

"
48"
Steel Storage Box, Two Steering Handles
0000000
00000000
120,000
30,000
4
4
12

3/4

"
6

3/8

"
5

1/8

"
__
__
5

3/4

"
Green
14
1

3/16

"
48"
Steel Storage Box, Two Steering Handles
0000000
00000000

Diamond-Tread

Swivel Platform with Lock

30,000
7,500
4
4
10

1/2

"
5

3/4

"
4

3/4

"
__
__
5

3/4

"
Green
14

15/16

"
48"
Steel Storage Box, Two Steering Handles
0000000
00000000
60,000
15,000
4
4
10

1/2

"
5

3/4

"
5"
__
__
5

3/4

"
Green
12
1

3/16

"
48"
Steel Storage Box, Two Steering Handles
0000000
00000000
120,000
30,000
4
4
12

3/4

"
6

3/8

"
4

7/8

"
__
__
5

3/4

"
Green
14
1

3/16

"
48"
Steel Storage Box, Two Steering Handles
0000000
00000000