High-Capacity

Spartan Casters with Metal Wheels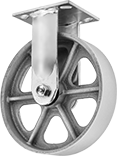 Rigid
Rigid with Brake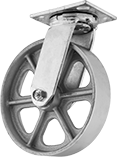 Swivel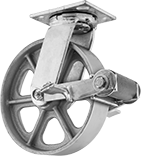 Swivel with Brake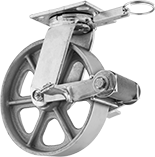 Swivel with Brake and Swivel Lock
These are good general purpose casters designed for heavy loads.
Wheels have roller bearings for smooth rolling.
Metal wheels work well on smooth surfaces. Iron wheels offer the strength and wear resistance you need for heavy loads and long life. Steel wheels provide the highest capacities for their size of any wheel material.
Forged-steel frames are more durable than formed-steel and stamped-steel frames.
Swivel casters have double-ball bearings for the smoothest swiveling. Casters with wheel brake apply pressure to the wheel to stop movement with a press of the foot pedal. Casters with swivel lock prevent the caster from swiveling with a twist of the ring.
Shielded bearings protect from dust and debris. Sealed bearings are completely sealed for the best protection against dust and debris.
Optional weld-on bracket lets you replace casters quickly on casters with a Style 1 mounting plate.
Add optional wheel brakes to prevent the caster from rolling. To install, replace the wheel's existing bushing with the brake bushing and position the brake pedal so it is parallel to the ground. Optional swivel locks prevent the caster from swiveling with the twist of the ring.
For technical drawings and 3-D models, click on a part number.