High-Capacity

Spartan Casters with Polyurethane Wheels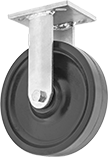 Rigid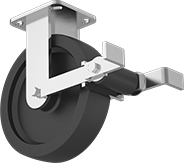 Rigid with Brake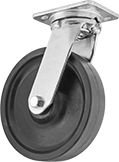 Swivel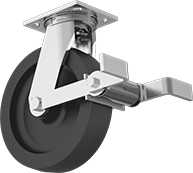 Swivel with Brake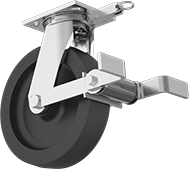 Swivel with Brake and Swivel Lock
These are good general purpose casters designed for heavy loads. Their polyurethane wheels combine the abrasion resistance of plastic with the impact resistance of rubber. Use them on smooth or rough floors and in areas with debris.
Tread-on-core wheels have an aluminum core that is harder than the tread, balancing strength with cushioning.
Roller wheel bearings provide smoother rolling than sleeve bearings. Ball bearings provide easy rolling.
Swivel casters have double-ball bearings for the smoothest swiveling. Casters with wheel brake apply pressure to the wheel to stop movement with a press of the foot pedal. Casters with swivel lock prevent the caster from swiveling with a twist of the ring.
Shielded bearings protect the bearing from dust and debris. Sealed bearings are completely sealed for the best protection against dust and debris.
Optional weld-on bracket lets you replace casters quickly.
Add optional wheel brakes to prevent the caster from rolling. Optional swivel locks prevent the caster from swiveling with the twist of the ring.
For technical drawings and 3-D models, click on a part number.