High-Capacity

Viking Casters with Nylon Wheels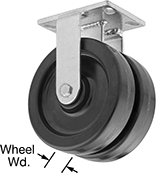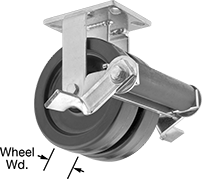 Dual-Wheel
Rigid With Brake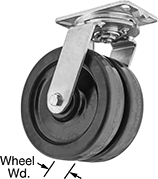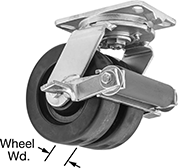 Dual-Wheel
Swivel with Brake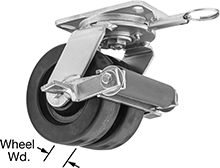 Dual-Wheel
Swivel with Brake and Swivel Lock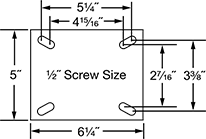 Rigid Mounting Plate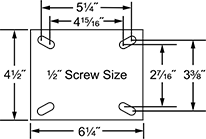 Swivel Mounting Plate
Strong, thick frames make these casters suitable for medium and heavy duty applications. Their dual-wheel design provides better load distribution and easier turning than single-wheel casters. They have durable glass-filled nylon wheels that are impact and wear resistant and work well on smooth surfaces.
Wheels have roller bearings for smooth rolling.
Swivel casters have double-ball bearings for the smoothest swiveling. Casters with wheel brake apply pressure to the wheel to stop movement with a press of the foot pedal. Casters with swivel lock prevent the caster from swiveling with a twist of the ring.
For technical drawings and 3-D models, click on a part number.
Mount


Ht.

Cap.

per


Caster,

lbs.

Hardness
Wheel
Bearing Type
Each

Rigid

Nonmarking Black Solid

Wheels—

Hard

5

1/2

"
1,600
Durometer 85D
Roller
0000000
0000000

Rigid with Wheel Brake

Nonmarking Black Solid

Wheels—

Hard

5

1/2

"
1,600
Durometer 85D
Roller
00000000
000000

Swivel

Nonmarking Black Solid

Wheels—

Hard

5

1/2

"
1,600
Durometer 85D
Roller
0000000
000000

Swivel with Wheel Brake

Nonmarking Black Solid

Wheels—

Hard

5

1/2

"
1,600
Durometer 85D
Roller
00000000
000000

Swivel with Wheel Brake and Swivel Lock

Nonmarking Black Solid

Wheels—

Hard

5

1/2

"
1,600
Durometer 85D
Roller
00000000
000000