Hollow-Tread

Flat-Free

Casters with Rubber Wheels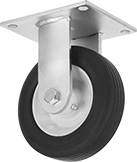 Rigid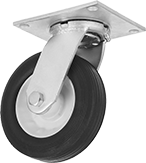 Swivel


A tough, puncture-resistant tread surrounds a nonpressurized pocket of air so these wheels absorb shock to cushion like pneumatic wheels but won't go flat. Use them on smooth or rough surfaces.
Shielded ball bearings in the wheel provide easy rolling and protect from dust and debris.
Swivel casters have double-ball bearings for the smoothest swiveling.
For technical drawings and 3-D models, click on a part number.