Hollow-Tread

Flat-Free

Wheels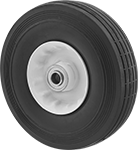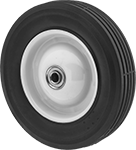 Wheel


Diamond Tread Pattern


Straight Line
Tread
Pattern

Also known as semi-pneumatic wheels, these have a puncture-resistant tread and a pocket of nonpressurized air that provides additional cushion without inflation.
Roller bearings provide smooth rolling. Ball bearings are the easiest to roll.
Center-mount hubs are symmetrical for equal clearance on both sides of the wheel. Side-mount hubs are offset for extra clearance between the wheel and your equipment.
Lug-fit rims have a series of indentations that line up with the tire's lugs to lock the tire in place so it won't slip on the rim.
For technical drawings and 3-D models, click on a part number.
Dia.

Wd.

Hub


Lg.

Cap.

per


Wheel,




lbs.

Tread
Pattern
Hardness
Rating
Wheel
Color
Nonmarking
Wheels
Features
Choose
For Axle


Dia.

Each

Center-Mount

Hub with Roller Bearings

Rubber Tread on Steel Core

8"
2

1/2

"
2

1/2

"
350
Straight Line
Soft
Black
No
Lug-Fit Rim
0000000
000000
10"
2

3/4

"
3

1/4

"
250
Straight Line
Soft
Black
No
Lug-Fit Rim
0000000
00000
12"
3"
3"
350
Straight Line
Soft
Black
No
Lug-Fit Rim
0000000
00000
16"
4"
6"
450
Straight Line
Soft
Black
No
Lug-Fit Rim
0000000
000000

Center-Mount

Hub with Ball Bearings

Rubber Tread on Steel Core

6"
1

1/2

"
1

1/2

"
50
Straight Line
Soft
Black
No
__

1/2

"
0000000
00000
8"
1

3/4

"
2"
60
Straight Line
Soft
Black
No
__

1/2

"
0000000
00000
8"
1

3/4

"
2"
110
Straight Line
Soft
Black
No
__

5/8

"
0000000
00000
8"
2

1/2

"
2

1/4

"
150
Straight Line
Soft
Black
No
Lug-Fit Rim
0000000
00000
10"
1

3/4

"
2"
80
Straight Line
Soft
Black
No
__
0000000
00000
10"
2

3/4

"
2

1/4

"
200
Straight Line
Soft
Black
No
Lug-Fit Rim
0000000
00000
10"
2

3/4

"
3"
200
Straight Line
Soft
Black
No
Lug-Fit Rim
0000000
00000
12"
1

3/4

"
1

7/8

"
90
Straight Line
Soft
Black
No
__

1/2

"
0000000
00000
12"
3"
3"
180
Straight Line
Soft
Black
No
Lug-Fit Rim
0000000
00000
14"
1

3/4

"
2

1/8

"
150
Straight Line
Soft
Black
No
__
0000000
00000

Side-Mount

Hub with Ball Bearings

Rubber Tread on Steel Core

6"
1

1/2

"
1

3/8

"
50
Diamond
Soft
Black
No
__

1/2

"
0000000
00000
7"
1

1/2

"
1

3/8

"
50
Diamond
Soft
Black
No
__

1/2

"
0000000
00000
8"
1

3/4

"
1

3/8

"
60
Diamond
Soft
Black
No
__

1/2

"
0000000
00000
8"
2

1/2

"
2

1/4

"
150
Straight Line
Soft
Black
No
Lug-Fit Rim
0000000
00000
10"
2

3/4

"
2

1/4

"
150
Straight Line
Soft
Black
No
Lug-Fit Rim

5/8

"
0000000
00000
10"
2

3/4

"
2

1/4

"
200
Straight Line
Soft
Black
No
Lug-Fit Rim

3/4

"
0000000
00000