Light Duty Furniture
Threaded-Stem

Casters with Polyurethane Wheels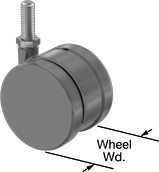 Swivel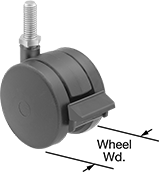 Swivel with Brake
Also known as twin-wheel casters, these lightweight and economical casters are often used on displays and furniture. Their polyurethane wheels combine the abrasion resistance of plastic with the shock-absorbing qualities of rubber. They can be used on smooth and rough floors and in areas with debris. Wheels ride directly on the axle rather than on bearings, making them an economical choice for equipment not frequently moved.
Casters with wheel brake apply pressure to the wheel to stop movement with a press of the foot pedal.
For technical drawings and 3-D models, click on a part number.
Dia.

Wd.

Mount


Ht.

Cap.

per


Caster,

lbs.

Hardness
Stem
Length
Fabrication
Material
Color
Each

Swivel

5/16"-18

Stem Thread Size

2

3/8

"
2

1/16

"
2

5/8

"
100
Durometer 90A
1"
Molded
Plastic
Black
00000000
00000

3/8"-16

Stem Thread Size

2

3/8

"
2

1/16

"
2

5/8

"
100
Durometer 90A
1"
Molded
Plastic
Black
00000000
0000

1/2"-13

Stem Thread Size

4"
2

15/16

"
4

3/8

"
170
Durometer 75A
1

1/2

"
Molded
Plastic
Black
0000000
00000

Swivel with Brake

5/16"-18

Stem Thread Size

2

3/8

"
2

1/16

"
2

5/8

"
100
Durometer 90A
1"
Molded
Plastic
Black
00000000
0000

3/8"-16

Stem Thread Size

2

3/8

"
2

1/16

"
2

5/8

"
100
Durometer 90A
1"
Molded
Plastic
Black
00000000
0000